Mississippi College Students Named Senator Roger Wicker Interns
---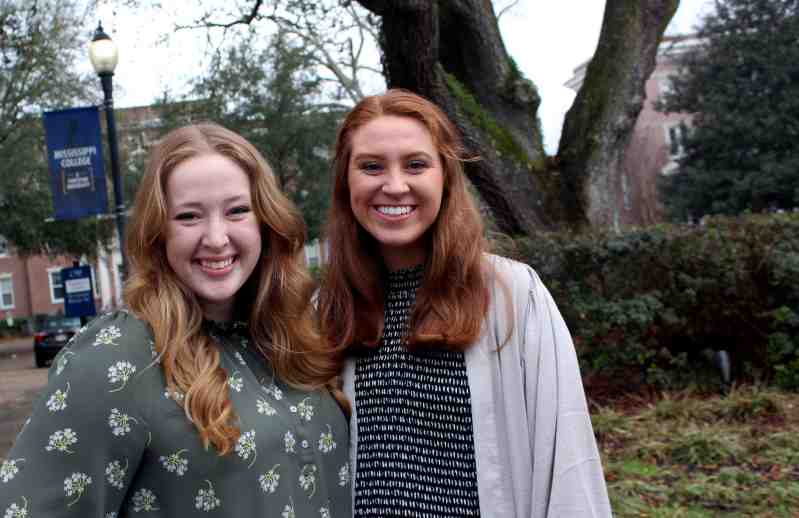 Mississippi College students Emmie Fuson and Jill Dickerson are pictured on the Clinton campus in February.
The Lincoln Memorial, Smithsonian Museums, and White House are destination points for millions of tourists each year.
Mississippi College students Jill Dickerson and Emily Fusion will check out the historic attractions and learn a great deal about Washington's political environment as interns for U.S. Sen. Roger Wicker.
Recently announced, their appointments come during a busy presidential election year. The two MC friends are already experiencing Potomac Fever. Their internships start in a few months, and they are eager to get started.
"Washington has always been a dream for me," says Dickerson, a rising senior from Memphis. "I hoped that when I was older and successful, I would get a chance to experience working in the nation's capital. But for some reason, God is boxing me up and shipping me out to (begin) my dream at age 21."
A public relations major, Jill believes the DC internship will advance her career, help her build connections and develop lasting friendships on Capitol Hill.
From visiting Georgetown and the National Mall to spending quality time in the political arena, the MC students are anxious to go to work in the Dirksen Office Building. It's the home of Senator Wicker's offices and will be their landing spot starting early this summer.
"I believe this program will be beneficial for my future as I begin my career in political communication," Fuson says. "This internship offers a unique chance to surround myself with the knowledge that our nation's capital can offer," adds the Baton Rouge, Louisiana resident.
Both students are actively involved at America's second oldest Baptist college.
Dickerson serves as vice president of administration with the Christian university's Laguna Social Tribe. An MC student senator and former public relations intern, Jill played on the Lady Choctaws soccer team in 2017-18.
As a student worker, Fuson serves as an MC public relations office content creator. Off campus, she worked as a communications assistant for former Gov. Phil Bryant in 2019-20, managing his social media accounts. The public relations major served as an intern with the Mississippi Emergency Management Agency. Her skills range from graphic design to strategic planning and political communication.
Graduation for Emmie Fuson happens on the Clinton campus in May 2020.
The Louisiana resident thoroughly enjoyed her Mississippi College experience from day one. "I love MC. It's been a home away from home for me. I have been so honored to learn and grow as a person here," she said. "I chose communication because I love the idea of crafting a message."
Working in Washington will be extra special for Jill Dickerson because it will give her a chance to reconnect with family members in the Georgetown area.
Senator Wicker is a longtime member of the Mississippi College family. A former Mississippi senator and U.S. House member from Tupelo, Wicker is married to an MC history maker. His wife, Gayle Long Wicker, became the first woman elected MC student government association president in 1972.
As Senator Wicker's new interns, Jill Dickerson and Emmie Fusion will get a glimpse at Washington's history and be part of the city's future as a new decade begins.
Sign-up For Our Newsletter
Get the latest news about Mississippi College delivered right to your inbox by subscribing to the Along College Street e-newsletter.