Mississippi College Table Tennis Team Earns 2nd Place Honors at Nationals
---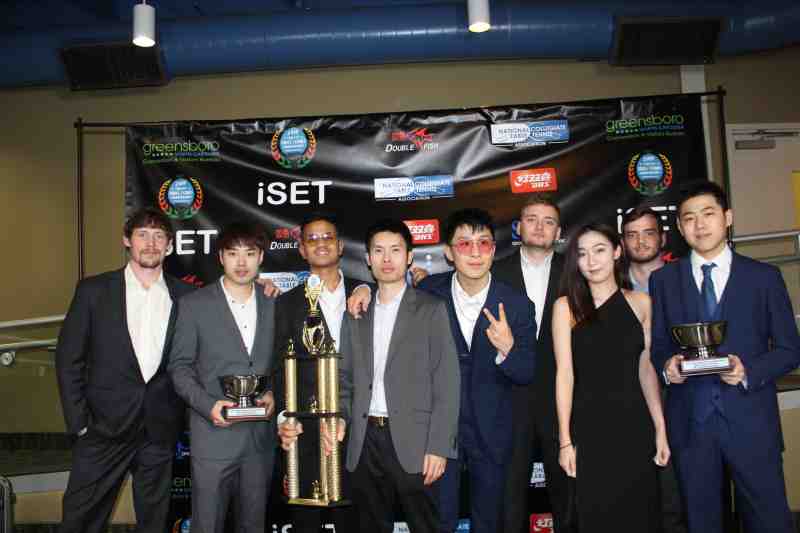 Mississippi College table tennis team earned 2nd place honors at the 2019 NCTTA National Championships in Greensboro, North Carolina in April. Pictured are MC team members, coach Johnson Liang, Captain Harry Sharma and friends.
Wrapping up another superb season, Mississippi College's table tennis team finished No. 2 in the USA at the 2019 national championships.
Facing perennial champ Texas Wesleyan University in the finals in Greensboro, North Carolina, MC fell 3 games to 1 in coed team matches on April 13.
The Texas Wesleyan Rams captured four titles: men's (coed) team, women's team, men's doubles and men's singles. Texas Wesleyan has achieved 73 national championships in table tennis since the program started at the private institution in Fort Worth in 2001.
The MC vs Texas Wesleyan rivalry remains a tradition at National Collegiate Table Tennis Association tournaments. The two schools battled in the finals six times, starting in 2012. The Mississippi College Choctaws won their only national championship in the Olympic sport in 2015 in Eau Claire, Wisconsin.
"These mighty MC student-athletes played their hearts out, but came up short against another powerful Texas Wesleyan table tennis team," said Andy Kanengiser, the squad's sponsor the past twelve seasons. "We applaud their grit, dedication and hard work during another terrific year with paddles blazing."
Delighted with the triumph of her Rams coed team, Texas Wesleyan head coach Jasna Rather also praised the MC squad for a fine performance at the Greensboro Coliseum.
"Mississippi College is a very strong team," Rather said after the finals ended Saturday night.
Texas Wesleyan now holds 14 men's (or coed) team titles. MC and New York University are the only two schools to beat TWU in finals competition.
A table tennis standout from Kunming, China, Xiang "Ali" He, 21, scored the only MC match victory in the finals.
Mississippi College defeated teams such as Duke, Wright State (of Ohio), and Santa Monica College before slamming the University of California-Irvine 3-0 to get to the final round. Texas Wesleyan defeated 2018 national coed champ New York University, among others, to advance and face MC. The last time the squads faced off in the finals was in 2016. MC's team finished third in the nation a year ago.
A former MC table tennis standout, Zhicheng "Johnson" Liang coached the Choctaws team. A Michigan-based accountant, he thanked the players for another amazing season.
Besides a second place team trophy, MC earned silver cups for Xiang He and teammate Qingwei Sun for their 2nd place in men's doubles.
The 2019 championships ended Qingwei's four seasons of college table tennis. Coach Liang appreciates his quiet leadership and enormous success for the 22-year-old native of Hebei, China.
Other team members include Captain Harry Sharma, a Nepal native who lives in Japan, Tomotaka "Tomo" Yoshitomi of China, and Vladyslav "Vlad" Totkalo of the Ukraine. A sports media and marketing major, Vlad is MC's first player from the Ukraine. A graphic design major from North Carolina, Caleb Shipman, and accounting major Jeremy Gore of Dallas, Texas round out the squad. Shipman's parents watched the marathon of Greensboro games April 12-14.
Table tennis really never ends for the players. Gore, who seeks to become a Para Team USA alternate at the Pan American Games, is booked for an early June tournament in Mexico.
Once they return home, MC players practice to improve their games over the summer.
President Blake Thompson is proud of their achievements. And he's invited the 7-man squad to his Nelson Hall office to offer his congratulations.
The Mississippi College players say they're thankful to the backing of the Blue & Gold family. That includes 1965 alumnus Louis Lau. A retired Texas businessman and native of Hong Kong, Dr. Lau has generously supported MC table tennis for more than a decade.
While there's a growing MC vs Texas Wesleyan rivalry, there are also bonds between the church-affiliated institutions. A Mississippi College graduate, Texas Wesleyan President Fred Slabach and Dr. Thompson have built a close friendship that began years ago.
Sign-up For Our Newsletter
Get the latest news about Mississippi College delivered right to your inbox by subscribing to the Along College Street e-newsletter.