Mississippi College Unveils Christ in Gethsemane Sculpture
---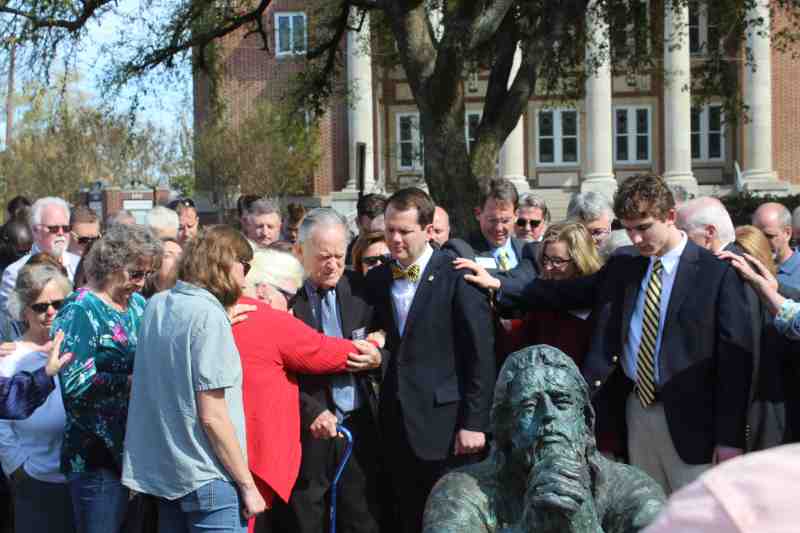 President Blake Thompson, sculptor Sam Gore and others prayed at Friday's ceremony at Mississippi College to reveal Dr. Gore's latest piece of art "Christ in Gethsemane."
Unveiling a bronze sculpture titled "Christ in Gethsemane" attracted many admirers of its creator, Sam Gore. The Founding Father of the Mississippi College Art Department remains an internationally celebrated artist, mentor, and friend to many.
What's so impressive is this 1952 MC graduate continues to go strong at age 91. The Clinton resident is embarking on plans to finish crafting three disciples of Jesus to go with this newest piece of art in the Rhoda Royce Prayer Garden. The dramatic piece illustrates Jesus praying in the Garden of Gethsemane, prior to His betrayal, arrest and crucifixion.
Ceremonies on the Clinton campus Friday morning were a key part of Inauguration Week activities for President Blake Thompson at America's second oldest Baptist college.
During his remarks March 29, Dr. Thompson said the latest addition to the Rhoda Royce Prayer Garden represents the "essence of our Christian university."
It speaks to Mississippi College's vision statement "to be recognized as a university known for academic excellence and commitment to the cause of Christ." The statement was first embraced by President Lee Royce, who led MC for 16 years before Thompson succeeded him July 1.
"I remain committed to that vision," Thompson said just hours before his inauguration as MC's 20th president. He sees Dr. Gore as a reflection of MC's cornerstone values with the persistent labor of his gifted hands to shape pieces of clay into magnificent art pieces. "We thank Jesus for sending Sam Gore our way."
He's a painter, sculptor, mentor, teacher and "friend to all of us," the MC president told the audience in a beautiful garden displaying flowers, water fountains and rocks inscribed with Biblical passages. "He transforms and animates lives."
Barbara Gauntt's book "Samuel M. Gore Blessed with Tired Hands" is filled with her stunning photographs of his pieces of art during a splendid career spanning more than six decades.
During his remarks, Vice President for Advancement Bill Townsend noted the 1952 MC graduate began working as an art instructor at his alma mater 68 years ago. That represents over one-third the life of the 193-year-old Christian university. The Texas native was hired in 1951 as an MC art teacher or before his graduation. The one-man Art Department became its first chairman in the 1950s and it continues to excel in 2019.
His latest piece of art received assistance to complete its bronze casting at the Lugar Art Foundry near Memphis. Owner Larry Lugar, who's worked closely with Dr. Gore on several Christian sculptures over the years, was recognized at the Friday morning ceremony.
The artist's eldest daughter, Dr. Judy Gearhart, spoke with passion on behalf of her Dad. He first got the idea for a sculpture at school in Atlanta when first asked in the 1940s about painting a copy of Heinrich Hoffman's "Christ in Gethsemane," she said.
But it was several decades later when his work on a sculpture began. The son of a Baptist preacher, Sam Gore took nearly a year to craft the 450-pound "Christ in Gethsemane." Its location near Alumni Hall is just a short walk away in the Quad to reach his sculpture of Jesus washing the disciples' feet. Outside the School of Education sits his sculpture "Jesus and the Children."
A Mississippi College graduate, artist and retired professor at the University of Mississippi Medical Center, Judy Gearhart says when her Dad sculpts, he prays.
"He prays for those who will view the sculpture, and yearns for the story to be told through art," Dr. Gearhart said as her Dad, other members of the Gore family and university supporters looked on. As people see "Christ in Gethsemane," they should "know that it is not just an image of Christ praying, but a prayer itself."
Sign-up For Our Newsletter
Get the latest news about Mississippi College delivered right to your inbox by subscribing to the Along College Street e-newsletter.