Moving a Mountain: Thacker Radio Hour Broadcast Comes to Mississippi College
---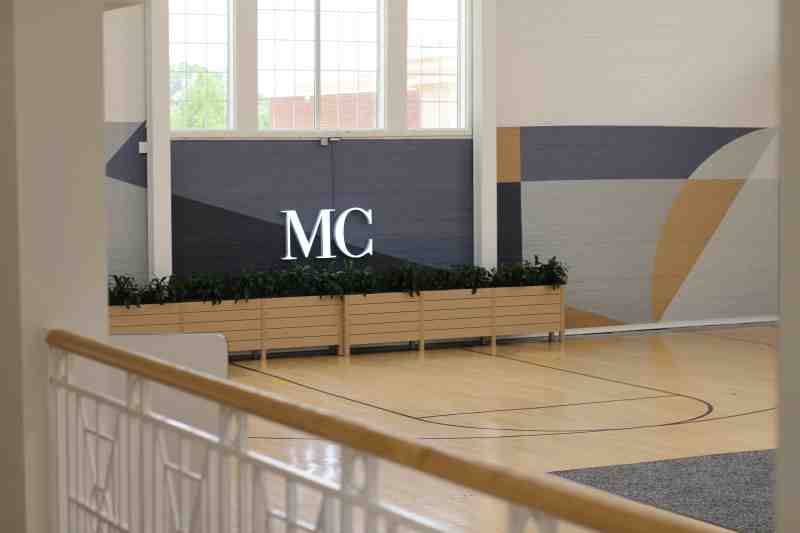 The old gym in Alumni Hall will be transformed into a broadcast studio when Thacker Mountain Radio Hour visits Mississippi College for a pre-Father's Day program.
One of Mississippi Public Broadcasting's longest-running musical variety shows is returning to Clinton – and coming to Mississippi College.
The award-winning Thacker Mountain Radio Hour will broadcast from Alumni Hall at 6 p.m. on Saturday, June 18, as part of a "Father's Day Eve" performance for MPB listeners in Mississippi, Alabama, and western Tennessee. It will mark the first time MC has hosted the show, which has traveled to Clinton for Father's Day Weekend broadcasts annually from 2016-19.
Hosted since 2000 by Jim Dees, author of "The Statue and the Fury," recipient of the 2017 Independent Publishers Association's Bronze Award for best non-fiction in the South, the weekly program consists of author readings sandwiched between a pair of musical guest performances. It gets its name from a fire observation tower that resembles a radio tower on Thacker Mountain in Lafayette County.
Thacker Mountain Radio Hour received the Mississippi Governor's Award for Broadcast Excellence in 2005 and a Citation of Merit from the Mississippi Institute of Arts and Letters in 2017.
Founded by former musicians Caroline Herring and Bryan Ledford and Square Books owner Richard Howorth, the show originates from Oxford, where it caught the ear of Dr. Blake Thompson, MC President. Long ago, Thompson studied at the University of Mississippi School of Pharmacy.
"I became acquainted with the show while a pharmacy student at Ole Miss," Thompson said. "As a music lover, I enjoyed listening to the variety of musical artists that performed on the program. My wife loves to hear the Mississippi authors. Many of the guests had personal ties to Mississippi College.
"When I discovered the producers were interested in reviving the show's annual 'road trip' to Clinton, I thought MC would provide the perfect place for them to do the broadcast."
Thompson and Ricky Nations, a local insurance agent and Past-President of the Arts Council of Clinton who had been responsible for the city's relationship with the Thacker Mountain Radio Show, worked together to arrange to host the show.
"MC is a great place for this show," said Nations, a member of MC's Class of 1981. "I looked for performers who have a nice blend, not all the same style of music. I picked these performers because I want the audience to experience these acts in person and be thoroughly entertained for 60 minutes.
"I want them to feel good about what they see and hear."
He said an underlying theme of Father's Day developed unexpectedly in the Clinton performances.
"The first show featured Claire Holley, a folk singer from California, whose dad taught at Reformed Theological Seminary," Nations said. "Marshall Ramsey was the literary guest for that show, and he had just returned that day from Atlanta after visiting his father. In the second show, Folk singer Caroline Herring's father, Jim Herring, said he was so glad the show had brought his daughter home.
"And Michael Farris Smith, an author from Oxford, appeared on the third show. His father is a retired Baptist minister who lived in Old Vineyard in Clinton."
The story of how Jones County resident Tom Landrum, an MC graduate, infiltrated the Ku Klux Klan in the 1960s on behalf of the FBI is the topic of Mississippi author Curtis Wilke's novel, "When Evil Lived in Laurel: The 'White Knights' and the Murder of Vernon Dahmer." Wilke will discuss his true-crime tale of Civil Rights-era Mississippi during the broadcast.
A performance by Southern singer, songwriter, and "community cultivator" Beth McKee will open the broadcast. The Orlando musician and former member of bayou-country band Evangeline has recorded several solo albums and is the founding principal of Swamp Sistas, a group of more than 2,700 Southern women artists who collaborate, mentor, and perform in the Swamp Sistas Songwriter Circle to support their home communities.
The Shotgun Jazz Band, a seven-piece ensemble from New Orleans, will round out the broadcast with its original brand of bluesy, Crescent City-style music. Marla Dixon, one of the city's strongest vocalists, leads the band's particular flavor of fun, no-nonsense New Orleans jazz.
Thacker Mountain Radio Hour's house band, Yalobushwhackers, fronted by Paul Tate with bassist Slade Lewis, pianist Mark Yacovone, and drummer Ricky Burkhead, also will perform during the broadcast.
"It'll be a fun, light, entertaining show," Nations said. "Jim Dees is a pretty humorous guy, and he keeps it moving at a nice pace. He gives you a good feel about the acts coming up and is a good interviewer.
"I want people to be excited about what they're witnessing and for them to want to come back again. They should bring their wallets, too, because the musical acts and author will be selling their CDs and books after the show."
This year's show won't be a one-off performance, if Nations has his way. He and Thompson envision an even more fitting place for Thacker Mountain Radio Hour's 2023 Father's Day weekend broadcast.
"The Gore Arts Complex will be open by then," said Nations of MC's state-of-the-art fine arts facility, currently being renovated. "The auditorium at the complex will be perfect for this broadcast."
Tickets to this year's show cost $20 each. Part of the proceeds will benefit the Arts Council of Clinton. For more information or to purchase tickets, visit https://ticketpeak.co/artscouncilofclinton/events.
Sign-up For Our Newsletter
Get the latest news about Mississippi College delivered right to your inbox by subscribing to the Along College Street e-newsletter.