Nurse Practitioner, Literary Specialist Join Mississippi College Faculty
---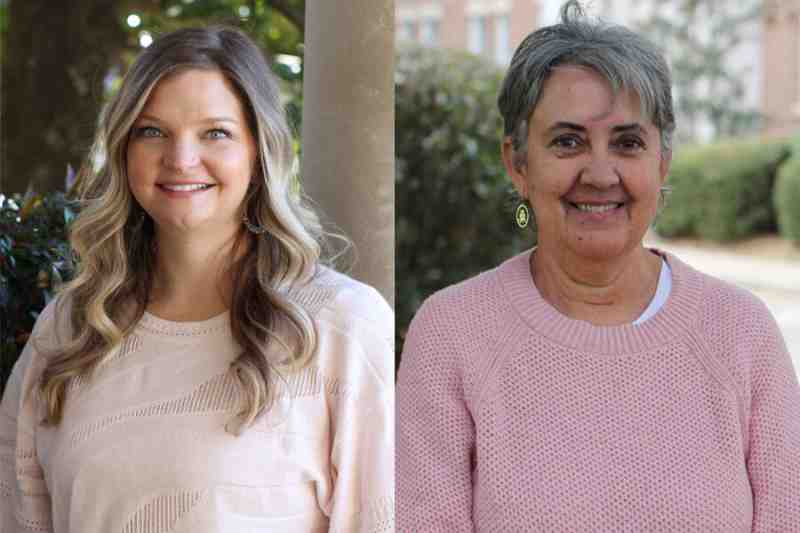 Valerie C. Bailey, left, and Jo LeVert have joined the faculty in MC's School of Nursing and School of Education, respectively.
Mississippi College executive leaders are proud to welcome two valuable additions to the Christian University's faculty and administrative staff.
Valerie C. Bailey, M.S.N., N.P.-C.
Valerie C. Bailey, a seasoned advanced practice registered nurse and nurse practitioner with experience in patient assessment and treatment of electrophysiology and cardiac disease, has joined the Mississippi College School of Nursing faculty as an assistant professor of nursing.
Dr. Kimberly Sharp, dean of the MC School of Nursing, said Bailey, who has served as an adjunct instructor at the school since January 2020, is a welcome addition to the full-time faculty.
"Valerie is an experienced and highly skilled clinician, and has advanced practice nurse practitioner qualifications, so she is able to mentor students," Sharp said. "She is very eager to be a part of the MC School of Nursing team and brings a valuable skill set and depth of understanding to support student learning outcomes.
"Her personable manner and heart for student success makes her a valuable member of the School of Nursing team. We are delighted that she has been able to join us full-time."
A resident of Flora, Bailey obtained her B.S.N. in 2005 and her M.S.N. in 2009 from the University of Mississippi Medical Center. She served as a staff nurse at Baptist Memorial Hospital, Memphis, from 2005-06; as a triage nurse at Cardiovascular Associates, PA in Jackson from 2006-08; and as an R.N. in the Infectious Diseases/Internal Medicine Unit at University of Mississippi Healthcare from 2008-09. The majority of her professional career has been in service as a family nurse practitioner, electrophysiology/cardiac disease, at Jackson Heart Clinic, P.A. in Jackson from 2009-12 and in Madison from 2014-18. She also served as an F.N.P. in the Heart Health Clinic at Premier Medical Clinic in Jackson from 2012-14.
A Sigma Theta Tau International Honor Society of Nursing inductee, Bailey is an active member of the American Academy of Nurse Practitioners and the Mississippi Nurses Association.
Jo LeVert, M.S.Ed.
Jo LeVert, a literary specialist and seasoned educator with 32 years of experience, has joined the Mississippi College School of Education faculty as an assistant professor in the Department of Teacher Education and Leadership.
Dr. Stephanie Henderson, assistant professor and chair of the department, said LeVert has exerted an encouraging influence at MC as an instructor and student teacher supervisor at the Christian University since 2020.
"The Department of Teacher Education and Leadership is excited to welcome Mrs. Jo LeVert to our team," Henderson said. "Mrs. LeVert brings decades of experience and expertise in the areas of literacy and early childhood education.
"She is already making a substantially positive impact on the learning experience for our education majors here at MC."
LeVert said she is dedicated to continuously learning and growing in every aspect of her profession.
"As a literacy specialist, I was able to meet the needs of many students instead of a small classroom," she said. "I enjoyed sharing my knowledge and experience with my colleagues. I look forward to the next stage in my career and opportunities to continue that sharing."
Upon receiving her B.S. in early childhood from the Mississippi University for Women in 1982, LeVert served as a kindergarten teacher at Smith Elementary School from 1985-91 and at Brown Elementary School from 1993-98 and as a kindergarten and first grade teacher at Boyd/McWillie Elementary School from 1998-2006, all in the Jackson Public School District.
She obtained her M.S. Ed. from Belhaven University in 2006, and became a literacy coach at McWillie. After a year as a second-grade teacher at Camden Elementary School, LeVert joined the Madison County School District as a literacy specialist, serving full-time from 2009-20, and part-time from 2020-21.
A member of the XI Chapter of the Alpha Delta Kappa international honorary organization for women educators, she has served the organization as chaplain, treasurer, vice president, president, and state altruistic chair. An active member of the Mississippi Early Childhood Association, she has made various contributions as multicultural chair, second vice president/conference chair, conference session presenter, walk-through-and-see chair, and conference chair.
Recipient of five Junior League grants and two Nissan grants, the Madison resident is a member of Madison Heights Church, where she serves as a Children's Church teacher, a Sunday school teacher, a choir member, and a MadCAAP (Madison Countians Allied Against Poverty) volunteer.
Sign-up For Our Newsletter
Get the latest news about Mississippi College delivered right to your inbox by subscribing to the Along College Street e-newsletter.