October DBT's MVP Recipient Lives the Gospel in Campus Dining
---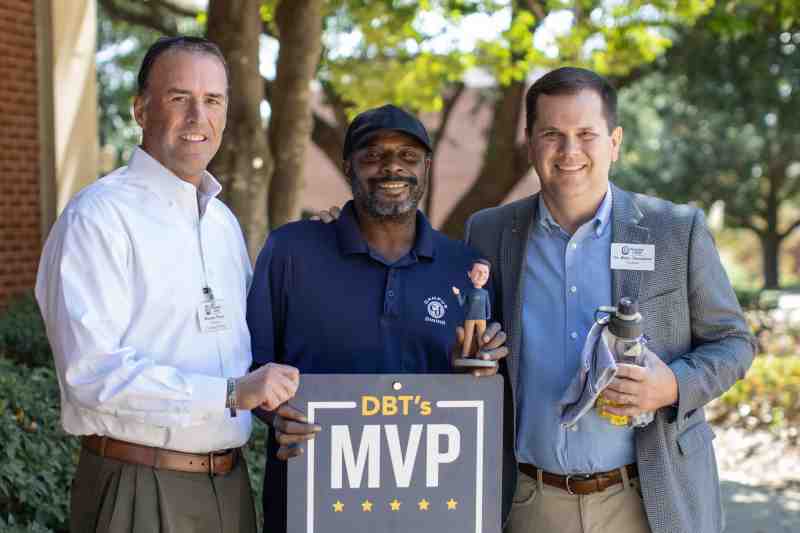 Mike Prince, left, director of food services, and Dr. Blake Thompson, right, MC president, present the October DBT's MVP Award to Derrick Martin of Campus Dining.
Derrick Martin understands how to use his position at Mississippi College to reach out to others and serve the cause of Christ.
The Campus Dining employee greets everyone at MC with a wave and a smile, and his outgoing personality has had a positive influence on the Christian University's campus.
Martin's willingness to be a particular source of encouragement for one MC student led Dr. Blake Thompson, MC president, to surprise him with the coveted DBT's MVP Award for October 2021.
After Martin had become a trusted mentor and friend to Samuel Corson, a junior from Wedowee, Alabama, the English literature major nominated him for the monthly award.
Corson said their on-campus encounters began as simple, cordial acknowledgements.
"Mr. Derrick would wave at me, as well as every other student that he would come across," Corson said. In time, "he'd walk up to me and do a handshake or a fist bump.
"Regardless of what kind of day he was having, he was consistently giving his greeting."
Martin would inquire about the young student's day, listen to him, offer advice, and even pray with him. Corson said Martin's faith-based guidance and encouragement has helped him successfully navigate personal challenges.
"He has prayed with me through life decisions and has made sure that I was seen and cared for when I sit by myself in the Caf," Corson said. "I've been going through relationship conflicts, school stresses, and deaths in my close circle, and he'd be there along the way every lunch and dinnertime to hear me out."
Mike Prince, director of food services at MC, isn't surprised by Martin's compassionate approach to others. In fact, he's become accustomed to it.
"Derrick has worked with food service at Mississippi College for over 25 years," Prince said. "Derrick has always worked various positions in the 'back-of-the-house' kitchen area, but two years ago, was asked to move out front to a 'customer service' position.
"In his new role, Derrick has 'lived the Gospel' by taking interests in the lives of those he serves by offering a listening ear and always giving a last word of encouragement with his trademark phrase, 'Have a blessed day.'"
Corson said Martin is a worthy selection for the MVP honor because of how he blesses every person he encounters each day.
"He is kind, considerate, energetic, intentional, humble, hard-working, friendly, patient, and loving," Corson said.
Sign-up For Our Newsletter
Get the latest news about Mississippi College delivered right to your inbox by subscribing to the Along College Street e-newsletter.