Order of the Golden Arrow Recipient Credits MC for Foundational Support
---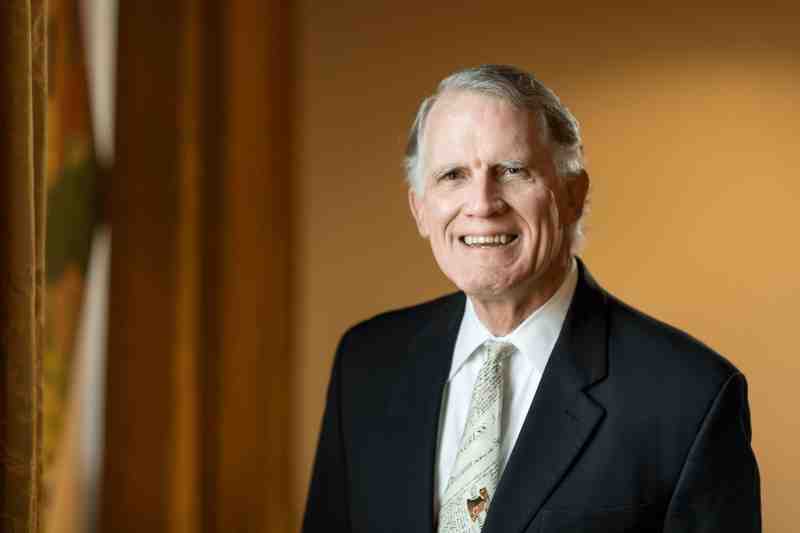 Andy Taggart, 2021 Order of the Golden Arrow Award recipient, credits Mississippi College for playing a significant role in his noteworthy career.
Throughout his career as a highly respected attorney, groundbreaking political stalwart, award-winning author, and higher education champion, Andy Taggart '79 credits one institution for having an influential role in his many personal achievements.
"Really, my entire adult life has been affected by my decision to go to Mississippi College," Taggart said. "I met my wife (Karen Bronson Taggart '82) there, and one of our three sons (Rob Taggart '11) also received his degree from MC.
"It's also where I met some of the best friends I've ever had, and I've been able to maintain a lot of those relationships through the years, and I cherish them."
Taggart's devotion to his alma mater and his remarkable career has led the National Alumni Association to select him as the 2021 Order of the Golden Arrow Award recipient. The award honors individuals, alumni, or friends of the University who have made outstanding personal or professional achievements in their professions, businesses, or careers, and recognizes exceptional performance or leadership beyond the ordinary.
Taggart and other outstanding alumni selected for Homecoming awards in 2021 will be recognized alongside 2020 award recipients during the annual Homecoming Brunch from 11 a.m. to 12:30 p.m. Saturday, Oct. 30, in Anderson Hall on the second floor of the B.C. Rogers Student Center.
The University's commitment to serving the Lord is what has made Mississippi College so important to Taggart throughout his life's journey.
"It's a tribute to the school's leadership over a very long period of time that they have not backed down from their commitment to Christian education, where some schools over the years have," Taggart said. "MC still stays true to its mission statement that says it seeks to be recognized for academic excellence and commitment to the cause of Christ.
"That consistent commitment is extremely important to my mind, and is one reason we are attracting students who might not otherwise come to Mississippi or stay in Mississippi, but go to MC because they want that commitment to academic excellence in a Christian environment."
Dr. Jim Turcotte, executive director of alumni affairs at Mississippi College, said Taggart is an excellent choice for the award because of his exemplary service to MC.
"Andy Taggart has made significant contributions to the profession of law," Turcotte said. "Besides that, Andy Taggart is an exceptional person who has had a significant impact on countless lives with his personal testimony and his service to his church."
As chair of the Academic Affairs Committee for the Mississippi College Board of Trustees and as an adjunct professor of history and political science at MC, Taggart said he is happy to inform prospective students about the education Mississippi College can offer them, both academically and spiritually.
"Some students think, 'If I go to a school that is a really good academic school, I'll have to give up an important part of the ethics of my faith,' or 'If I go to a strong Christian university, I'll have to sacrifice some from the academic side,'" he said. "At Mississippi College, you don't have to give up either one.
"I am able to tell students that I have every confidence the undergraduate preparation I had was of superior quality and that I was as prepared for both professional school and for my profession as anyone else I have encountered in the practice of law."
After receiving his B.A. in political science with high honors and distinction from MC in 1984, Taggart earned his J.D. cum laude at the Tulane University School of Law in New Orleans, where he served on the Senior Editorial Board of the Tulane Law Review. He maintained his own law practice for several years and served as chief of staff and counsel to former Gov. Kirk Fordice from 1991 to 1994.
Recipient of a coveted Martindale-Hubbell "AV" Peer Review Rating for more than 20 consecutive years, Taggart has served as chair of the Greater Jackson Chamber Partnership and co-chair of the Mississippi Department of Corrections Task Force on Contract Review and Procurement. A gubernatorial appointee to the Mississippi Judicial Appointments Advisory Committee, he has served as chairman of the Board of Directors for the Mississippi Center for Public Policy and as a member of the Board of Trustees of FamilyNet, Inc., a television and radio broadcasting subsidiary of the North American Mission Board of the Southern Baptist Convention.
A member of the Mississippi Advisory Committee to the United States Civil Rights Commission from 1988 to 1993, Taggart served as president and chief executive officer of the Mississippi Technology Alliance from 2002 to 2005. He served four years as a gubernatorial appointee to the Mississippi Arts Commission and was elected president of the Madison County Board of Supervisors in 2007. He helped establish the firm of Taggart, Rimes & Wiggins, PLLC.
Taggart is the co-author of two popular books, "Mississippi Politics: The Struggle for Power, 1976-2008," and "Mississippi Fried Politics: Tall Tales from the Back Rooms." A highly sought speaker, he was named an Otho Smith Fellow by the University of Mississippi School of Business Administration and a Leading-Edge Lecturer by the Mississippi Universities Center.
Taggart said he is living proof the foundation of a rewarding career in the Magnolia State can be laid at Mississippi College.
"If someone wants to carve out a high quality of life in the state of Mississippi, Mississippi College has certainly been a critical part of that in my life," he said.
Sign-up For Our Newsletter
Get the latest news about Mississippi College delivered right to your inbox by subscribing to the Along College Street e-newsletter.