Partnering with Mississippi Department of Archives and History
---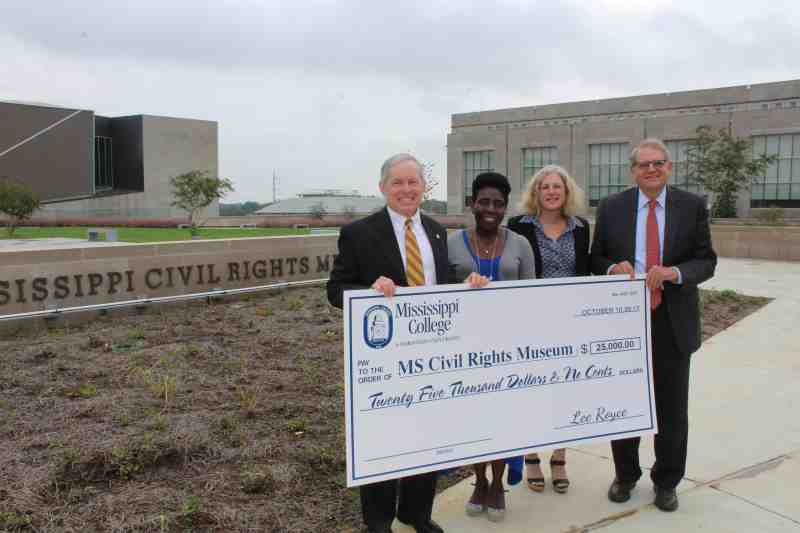 Mississippi College President Lee Royce presented leaders of two new museums in Jackson with a $25,000 grant from MC on October 10. The Museum of Mississippi History and Mississippi Civil Rights Museum opened on December 9, 2017 as part of the state's Bicentennial celebration. Founded in 1826, MC is the state's oldest institution of higher learning. It is the nation's second oldest Baptist college. Dr. Royce retired as MC president in June 2018 after 16 years of distinguished service.
Historical treasures can easily be discovered at two fabulous Jackson museums located just miles from Mississippi College.
Due to a new partnership with the Mississippi Department of Archives & History, MC students will play a greater role as museum volunteers.
The timing couldn't be better for the 5,200-student university. Both the Mississippi Civil Rights Museum and the Museum of Mississippi History have been showered with acclaim since opening in December 2017. The Civil Rights Museum features eight galleries telling the stories of Mississippi's civil rights struggles from 1945 through 1976.
Thanks to the Department of History and Political Science partnership with the state agency, MC students will step up their work as volunteers at the twin museums.
It's a key component of the Mississippi College department launching its public history minor this Fall, says professor Patrick Connelly. The department's chairman, the Clinton resident is elated to announce the program's details.
"In a way, it codifies what has already begun happening in our department," Connelly said. "We have a growing number of students interning at public history sites." And that includes the Mississippi Department of Archives and History. The MDAH-administered museums at 222 North Street have attracted thousands of visitors.
Mississippi College history instructor Missy Jones of Clinton deserves much of the credit for making the student internships possible, Connelly said. The history professor is grateful that MDAH leaders are pleased with the performance of the student volunteers. Their work was noted in the agency's Spring 2018 volunteer newsletter.
"The state of Mississippi has so many opportunities for students in this area," Connelly said.
In August, Connelly and Jones visited MDAH leaders in Jackson. "Their leadership expressed excitement about our growing partnership with them."
Eventually, the university's public history minor could become a department major on the Clinton campus.
Ron Howard, MC vice president for academic affairs, says the Christian university is making a concerted push to expand internships. The new initiative speaks to that effort.
"Students want job-related experiences as they are developing their book-learning skills to assist" in their future careers, Howard said. "Being in Central Mississippi is a great advantage for MC in helping students find diverse internship opportunities."
For many years, Mississippi College offered a rich series of academic programs – from the humanities to the sciences, education and business. But now, university leaders, Howard said, will take more steps to open doors for students to pursue valuable internships.
Sign-up For Our Newsletter
Get the latest news about Mississippi College delivered right to your inbox by subscribing to the Along College Street e-newsletter.