Physician Assistants Playing Big Role as Coronavirus Cases Soar
---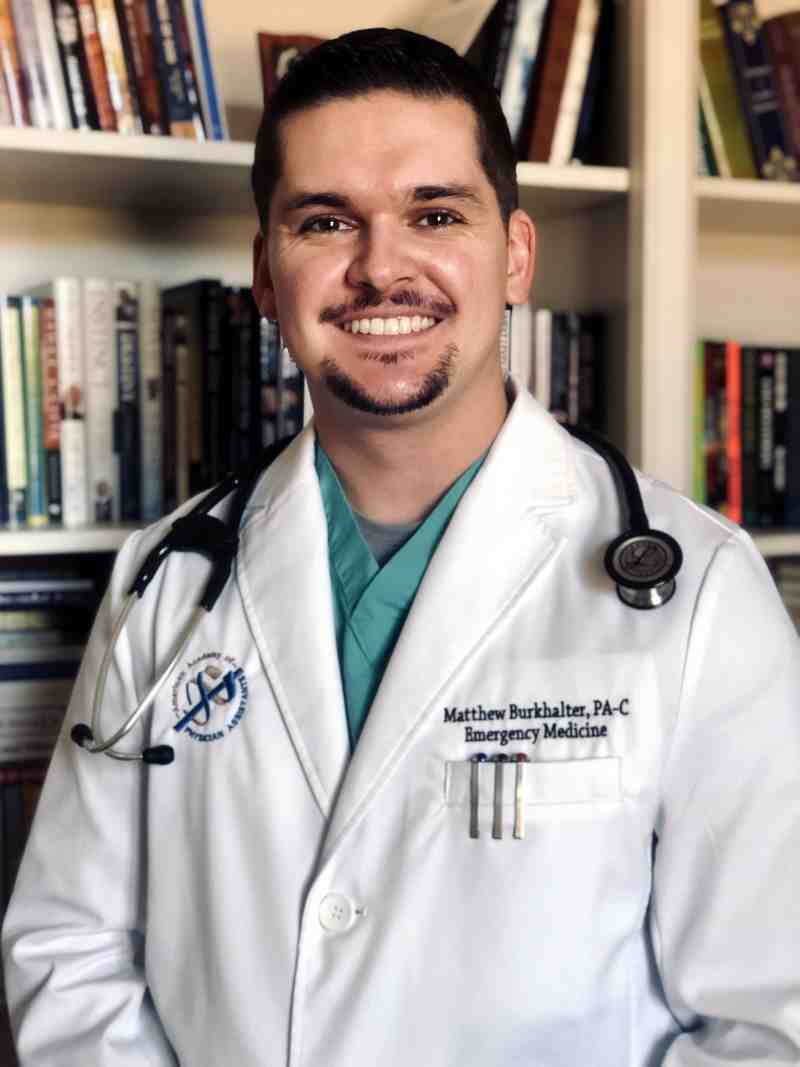 2018 MC PA graduate Matthew Burkhalter of Brandon
Working long hours at a Jackson hospital, physician assistant Matthew Burkhalter is among many professionals taking on critical COVID-19 challenges.
The 26-year-old Brandon resident knows this unprecedented health emergency isn't going away soon. Mississippi reports 1,073 Coronavirus cases on April 1, including 22 deaths.
While the USA remains the world leader in COVID-19 cases, Burkhalter stays busy at a Merit Hospital as an emergency medicine physician assistant.
The 2018 Mississippi College PA graduate is part of a stellar Merit Hospital team in the capital city joining the battle against COVID-19 as April begins. They include doctors, nurses, physician assistants, nurse practitioners, respiratory therapists, technicians and environmental service workers.
"We have tested a large number of patients at our hospital – I have seen three potential (Coronavirus) cases myself," Burkhalter said. "The biggest change has been the volume of patients we have seen."
People coming in are the sicker patients, many requiring intensive care, whether for Coronavirus concerns or general medical issues.
Burkhalter salutes the work of his colleagues during this worldwide pandemic. Experts predict 200,000 people in America or more may die from the fast-spreading virus. Social distancing can slow its spread.
Team members at Jackson's Merit Hospital, the Mississippian said, are "all pitching in and doing a wonderful job of loving thy neighbor. And ultimately, that's what this time is all about, for all of us, whether you're quarantined at home or on the front lines. You're loving your neighbor and serving them. That is what I was called to do as a PA."
Steve Martin, the Mississippi College physician assistant director, says graduates like Matt Burkhalter, are doing an extraordinary job amid many challenges.
"Matt was an excellent student. He has a high spirit of serving others and was, in fact, a volunteer paramedic/firefighter with a local community while attending PA school," Martin said.
Graduates of MC's 30-month PA program serve under the supervision of physicians. MC launched Mississippi's first PA program in 2011. Up to 90 students are enrolled.
A new cohort class starts in May. The MC program is based at the Baptist Healthplex on the Christian university's Clinton campus.
Burkhalter is a 2012 graduate of Northwest Rankin High in Brandon. He earned his degree as a paramedic at Hinds Community College in 2014. He finished his undergraduate studies in 2016 at the University of Mississippi Medical Center with a bachelor's degree in health science.
Like many medical professionals, Burkhalter is staying up to date on supplies needed for healthcare workers to keep them safe.
"So far, we have plenty of supplies, but the number of potential COVID-19 patients is expected to skyrocket over the next two weeks per our infectious disease team. They give us daily briefings in the morning regarding any changes. I would say we are well prepared, but still very wary of what is to come."
About 1,000 miles away in New York City, two Mississippi College PA graduates (Class of December 2019) are volunteers at Bellevue Hospital. New York City is America's COVID-19 epicenter with more than 1,100 deaths reported. There are now 75,795 cases in New York State. New York has more total Coronavirus cases than the China province where the pandemic began over three months ago.
MC graduates Casey Collier, 39, a Houston, Texas native and LaKendra Wiley, 33, of Mobile, Alabama, are working non-stop in the hospital's emergency department. Bellevue Hospital like other medical facilities in NYC is overwhelmed.
"We work triaging suspected COVID-19 patients. We educate them on social distancing and self-isolation to prevent further spread of the virus. We are also providing medical care to COVID-19 patients as well as patients of all levels of acuity," Collier said.
Some professionals describe New York City as a medical war zone. Healthcare facilities were created in late March at Central Park and at a major convention center in the city of eight million people.
During the rapidly evolving health crisis, Collier says his MC training helped "to prepare us for this task."
Sign-up For Our Newsletter
Get the latest news about Mississippi College delivered right to your inbox by subscribing to the Along College Street e-newsletter.