Providence Hill Farm Hosts Collegiate Horse Competition
---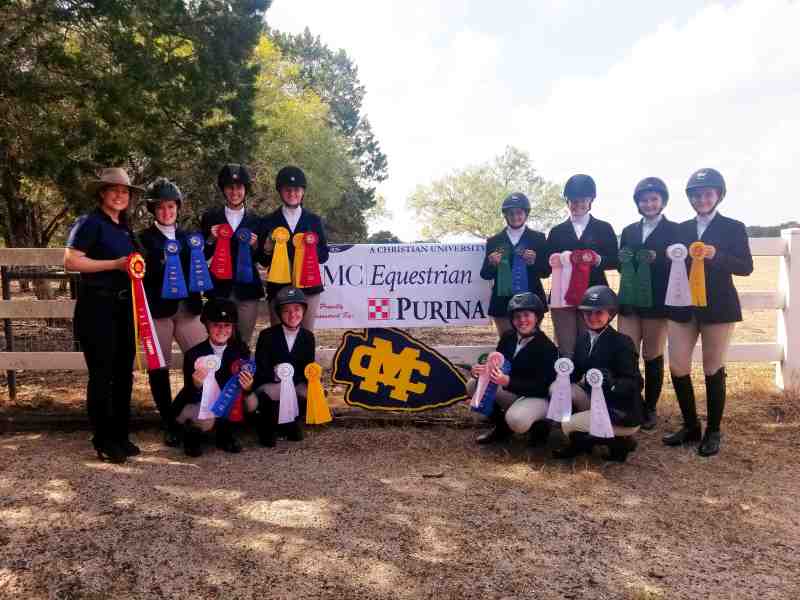 Mississippi College equestrian team members competed in Texas in October.
More than 100 equestrian riders from around the South will soon be bound for competition at Providence Hill Farm.
The event at Mississippi College's equestrian team headquarters is set for November 2-3. Schools including LSU, Tulane, the University of Arkansas, Rice and the University of Texas at Austin will send riders to compete in Central Mississippi. MC's squad will saddle up, too.
"This puts us on the map in the South for collegiate equestrian riding," says MC administrator Jim Turcotte, who oversees the university's outdoors club sports.
Mississippi College's equestrian team competes in the Intercollegiate Horse Show Association's Texas and Louisiana division.
The horse show starts at 8 a.m. that Saturday with an open over the fences competition.
MC equestrian team coach Claudia Billups and Ann Skogerbee, director of the university's equestrian programs, spent considerable time behind the scenes making the event happen.
"Their hard work is the reason why we landed this," says Turcotte, vice president for enrollment services and executive director of alumni affairs.
The MC-hosted event represents the first major collegiate tournament booked at Providence Hill Farm.
The Mississippi College team will welcome ten visiting squads. The visiting collegiate riders are also traveling from the University of Louisiana-Lafayette, Texas State University at San Marcos, McNeese State, Trinity University and Schreiner.
In their 13th season, the MC Lady Choctaws excelled at competition in New Braunfels, Texas with second place finishes both days of the show October 19-20.
MC competed against nine other colleges at the Trinity University Fall Show. MC took home the Reserve High Point Team at the event in the Lone Star State.
Among the top competitors: Audrey Sanders of Hattiesburg landed two first place scores for pre-novice flat on Saturday and Sunday. Georgia Wasson of Madison earned first place honors in novice flat Saturday and second place Sunday. Lauren Sullivan of Wetumpka, Alabama earned first place honors Saturday in over the fences in the limit category. Macy Urbanosky of North Richland Hills, Texas got 2nd place Sunday in over the fences in the intermediate division.
Making a 2nd place finish was Olivia Perkins of Columbus, Georgia for the intermediate division Sunday in over the fences competition.
A sophomore Georgia Wasson, 19, enjoys riding horses for the Blue & Gold team. "It is a great relaxing way to spend my time," said the pre-physical therapy major. "I love the free feeling I get when I'm riding horses." As for her teammates, "they are all pretty amazing."
At Providence Hill Farm practices, Wasson usually rides horses named Biscuit or Dylan.
For additional details about the November 2-3 event at Providence Hill Farm, contact Claudia Billups at cbillups@mc.edu or Ann Skogerboe at amskogerboe@mc.edu
Sign-up For Our Newsletter
Get the latest news about Mississippi College delivered right to your inbox by subscribing to the Along College Street e-newsletter.