Retired Mississippi College Educators Receive New Honor
---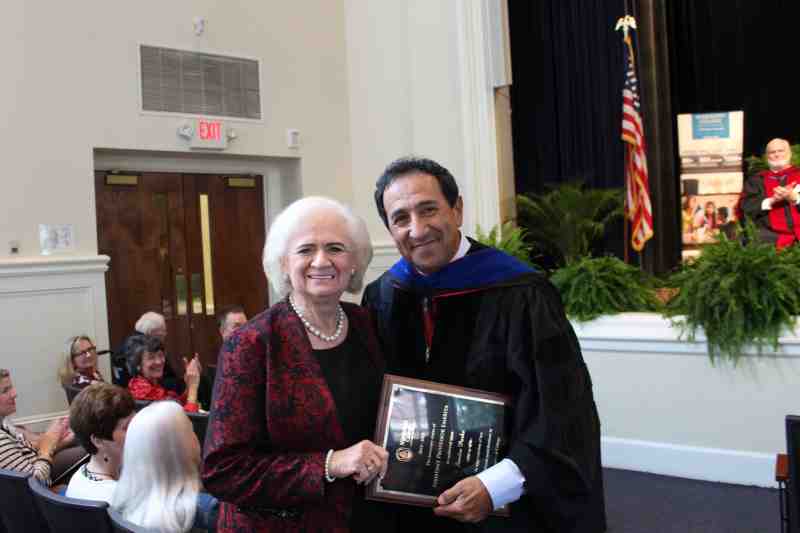 Retired Mississippi College accounting professor Sandra Parks is pictured with School of Education Dean Marcelo Eduardo at Swor Auditorium. Parks was honored by receiving professor emerita status at the university's convocation on August 17.
Mississippi College retirees who devoted decades of service to the Christian university, their community and profession received a wonderful tribute.
At Friday's convocation to open the institution's 193rd academic year, MC leaders saluted Wanda W. Mosley, Sandra Parks, Don W. Locke and Kenneth Quinn. All four Mississippians received the honorary status of professor Emerita/Emeritus for their extraordinary work on the Clinton campus.
Mosley recently retired as assistant director at the Leland Speed Library along College Street to cap off four splendid decades as a librarian.
Beloved by students for more than three decades, Parks worked hard as an award-winning accounting professor at the MC School of Business. The Clinton resident often returns to campus to renew old friendships at major events year-round.
Locke served with distinction as the MC School of Education dean for 17 years after working at the University of Louisiana at Monroe. "My career focus has been developing educational curricula and programs in the areas of counseling and education."
During Locke's tenure as MC education dean, the university established the doctorate in educational leadership. The MC School of Education is also home to an innovative doctorate in professional counseling as well as a graduate degree in dyslexia therapy.
Locke's 50-plus years in the education arena included serving for a year as president of the nation's largest association of professional counselors. Early in his career, the 1963 MC alumnus gained fame as the Murrah High tennis coach who led his Jackson team to capture the state championship. A Clintonian, Dr. Locke received the prestigious Order of the Golden Arrow Award at MC's Homecoming a few years ago.
A 1957 graduate of Jackson's Murrah High and Mississippi College alumnus, Quinn was recognized in 2006 as the university's Order of the Golden Arrow Award winner. He's known as Dr. Kenneth Quinn after he was presented with an honorary doctorate of arts degree at Mississippi College. A gifted artist and former longtime Whitten Junior High teacher, Quinn received the Mississippi Governor's Excellence in Education award in 1999. The Mississippi native joined the MC Art Department faculty in 1991.
The Professor Emeritus status goes to retired faculty members making significant contributions to the university through a distinguished record of scholarship, teaching/research or service.
Showcasing four retired MC educators was one of the memorable moments of the university's 2018 convocation at Swor Auditorium. It also marked the first such program for new President Blake Thompson. The successor to President Emeritus Lee Royce on July 1, Dr. Thompson warmly welcomed more than 500 faculty and staff members.
The 44-year-old president spoke from the heart as he encouraged the entire Blue & Gold family to remain focused on going the extra mile to serve thousands of students.
Dr. Thompson spoke of the shining example of the late Mississippi College administrator Van "Doc" Quick, who never gave up on any MC student, even those encountering trouble.
Listening to his remarks in the Nelson Hall auditorium was Dr. Thompson's wife, Jana. The Thompsons are Rienzi, Mississippi natives and both are graduates of the University of Mississippi School of Pharmacy.
The couple's three children, Grey, Sarah Blake, and Cate, were away in school Friday morning. But all three kids left their Dad with sticky notes offering words of advice – even reminding him to use good grammar in his speech to the MC family.
Sign-up For Our Newsletter
Get the latest news about Mississippi College delivered right to your inbox by subscribing to the Along College Street e-newsletter.