Seasoned Mathematics Educator, MC Mathematics Alumna Join MC Faculty
---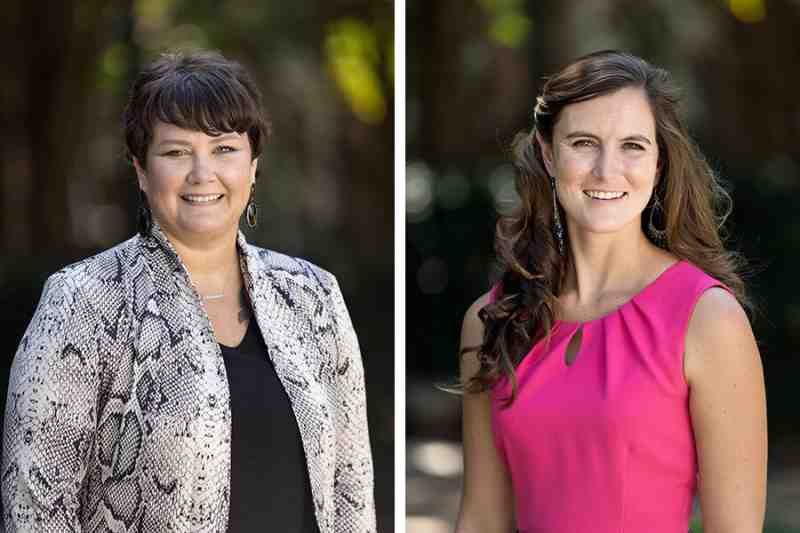 Hannah Howell Loper, left, and Taylor Poe have joined the Mississippi College faculty.
Hannah Howell Loper, M.Ed.
Hannah Howell Loper, a seasoned mathematics educator in numerous junior and senior high school programs throughout the state, has joined the Mississippi College faculty as an instructor in mathematics.
Dr. John Travis, professor and chair of mathematics at MC, said Loper's experience will be beneficial to her students.
"Professor Loper's years of secondary teaching brings to our department a vibrancy that is contagious and that encourages students to stay connected," Travis said. "Her experience in the high school classroom will provide our future educators with insights into how to be better teachers, mentors, and colleagues in the secondary setting."
A Kosciusko High School graduate, Loper earned her B.S. in secondary mathematics education at Mississippi State University in 2002 and her Masters in Mathematics Education from the University of Mississippi in 2004.
Loper returned to Kosciusko to complete her student teaching assignment and built a total math/science/social studies curriculum for middle school instruction at UM in 2004. She remained in the Oxford School District to start her professional teaching career, which has taken her to junior and senior high schools in DeSoto, Newton, and Rankin Counties.
Taylor Poe, Ph.D.
Taylor Poe, an MC alum who received her doctorate of mathematics from Baylor University last summer, has joined the Mississippi College faculty as an assistant professor of mathematics.
Dr. John Travis, professor and chair of mathematics at MC, said he is pleased to welcome Poe back to the Christian University – this time, as a faculty member.
"It is always nice to see one of our graduates, but having such an outstanding mathematics alumna return to be on the faculty is a special treat," he said. "Dr. Poe already understands what it is that makes Mississippi College so special, and is committed to the department's focus on stretching students so that they become problem-solvers."
After earning her B.S. in mathematics summa cum laude at Mississippi College in 2017, Poe obtained her M.S. in mathematics in 2020 and received her Ph.D. in 2021 from Baylor University, Waco, Texas.
The author or coauthor of two articles in peer-reviewed professional publications, she is an active member of the American Mathematical Society and the Association for Women in Mathematics. A Global Friendship Partner, Poe is a Graduate School Fellowship recipient, a Baptist College and University Scholar, and a member of the Conyers Graduate Scholars Program at Baylor. In 2019, she received the Baylor Outstanding Graduate Student Instructor Award and the Outstanding Graduate Mathematics Teaching Award. She served as secretary of the Baylor Golden Key Honors Society and is a member of the Baylor University Women's Council.
Recipient of the 2017 Perry Award for Scholastic Achievement and a Mortar Board National College Honor Society member at MC, Poe received numerous awards as an undergraduate and served as a summer missionary to Thailand and East Asia.
Her research interests include orthogonal polynomials, primarily on the unit circle, and Poncelet polygons. A member of First Baptist Church of Robinson, Texas, she serves as a ladies Bible study leader and nursery volunteer.​​​​​
Sign-up For Our Newsletter
Get the latest news about Mississippi College delivered right to your inbox by subscribing to the Along College Street e-newsletter.