Students Play Major Role at Mississippi College Inauguration Week
---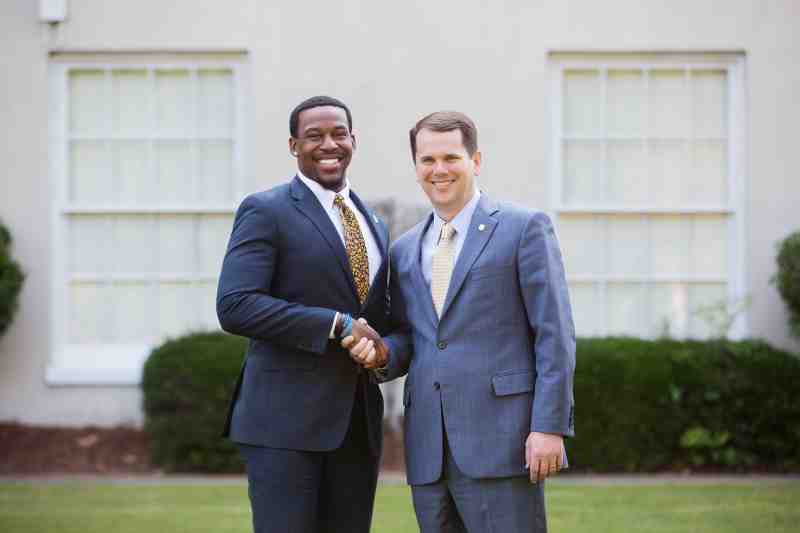 SGA President Anthony Jackson and MC President Blake Thompson
President Blake Thompson starred on the Tropics intramural basketball team in Alumni Gym, visited numerous classes, and regularly cheers for the Choctaws at home sporting events.
Since arriving July 1, Dr. Thompson demonstrated he's a student-oriented leader on the Clinton campus. So it makes sense that MC students will play a key role during inauguration week activities on the Clinton campus.
From the MC Singers to the university's Jazz Band, students will showcase their talents at events running from a church worship service on March 24 through March 29th inauguration ceremonies.
Students are pleased to participate in a big way to celebrate President Thompson's inauguration. The new leader of the Christian university's family, Thompson is off to a great start as the university's 20th president, students say.
"I believe that Dr. Thompson has done an exceptional job since he's been here," said MC junior Aaron Feazelle, the Student Government Association president-elect.
A 20-year-old resident of Diamondhead on the Mississippi Gulf Coast, Feazelle gives top grades to Thompson for his adept communication skills. "I believe his ability to relate to the students is one of his best qualities," he said.
"Dr. Thompson is a very approachable man and speaks sincerely whenever he is talking. His intelligence and expertise helps for myself and other students around him to grow intellectually," adds the business administration major.
Beginning his duties this Spring as the 2019-20 SGA president, Aaron expects to learn even more from the new MC president.
About 30 students will be featured in the inauguration procession on the Quad on March 29 to formally install Dr. Thompson as the institution's chief executive.
The group includes outgoing SGA President Anthony Jackson of Mound Bayou, SGA Vice President Alex Rodriguez of Houston, Texas, Feazelle, and Campus Activities Board chair Leah Trainer. Representatives from honor societies on the Clinton campus and MC School of Law will be represented.
Other student delegates include Zach Klopman of Alpha Epsilon Delta, the honor society in biology, and Amber Kaminski of the Delta Mu Delta honor society for business. Emily Hankins, who represents Lambda Pi Eta, the honor society for communication students and Hannah Brown of the Kappa Delta Pi honor chapter for education are signed up as well. MC Law's Moot Court Board, the Black Law Students Association, and the Christian Legal Society will send student leaders, too.
MC sophomore Jill Dickerson, of Memphis, Tennessee hopes to attend several inauguration events. She's giving solid grades to the Rienzi, Mississippi native for his job performance. A former vice president at The Ohio State University, Dr. Thompson succeeded Dr. Lee Royce, who retired after serving 16 years.
"Since Dr. Thompson arrived, there has been a huge morale boost on campus," says Dickerson, a public relations major. "You can count on him to hype up any event the students may plan."
Thompson is often spotted walking or traveling around campus via his golf cart. There are meetings with faculty, staff, alumni, trustees and notable visitors. But students seem to be priority one.
"He is eager to know the students and he wants to give each student a chance to voice their opinion," Dickerson said. "He is definitely a great ambassador for the university."
America's second oldest Baptist college remains in good hands, Jill believes. "From what I've seen, Dr. Thompson uses his firmly-rooted faith as the compass for his decisions."
Students taking center stage at the March 24 worship service at First Baptist Church Clinton, with the MC Singers to perform gospel selections with the community invited. It starts at 6 p.m. Sunday.
A March 28 dinner/concert on the streets of Olde Towne Clinton will feature student groups. Visitors can peel-and-eat shrimp & jambalaya, while they are entertained that Thursday from 5-9 p.m.
The MC Jazz Band will put crowds in a festive mood at a reception at the Piazza and Jennings Hall courtyard following the March 29 inauguration ceremony (it begins at 4 p.m. in the Quad). The public is invited to attend.
For more information, contact MC inauguration committee chair Tracey Harrison at 601-925-3239 or look for a list of activities on the university's website at mc.edu/inauguration.
Sign-up For Our Newsletter
Get the latest news about Mississippi College delivered right to your inbox by subscribing to the Along College Street e-newsletter.