Television Personality Walt Grayson Delivers Mississippi College Journalism Lectures
---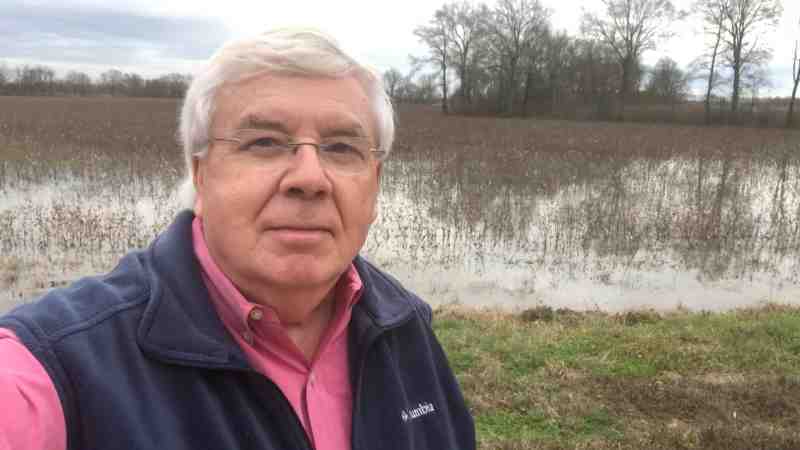 WJTV's Walt Grayson
A gifted Southern storyteller, award-winning television personality, and longtime weather forecaster, Walt Grayson served as a guest speaker at Mississippi College.
A features and lifestyle reporter for WJTV-12 in Jackson, Grayson was selected to keynote the Purser Hewitt Journalism Lecture series on the Clinton campus. He spoke to MC Department of Communication classes and addressed a luncheon as part of his March 5-6 visit.
The luncheon attracted communication students, faculty and staff at Anderson Hall on Tuesday March 5. Walt told some of his folksy stories, and talked about his path into television journalism. He spiced things up with his dry sense of humor.
Grayson encouraged the MC students to do their best work at all times. Professionals in the communication field could be evaluating their work at a later date.
A native of Greenville, Grayson made his media debut as an announcer for a radio station in his Delta hometown. Walt was a high school student when he began working at Greenville's WJPR.
For decades, Grayson worked for WLBT-TV 3 in Jackson before recently joining WJTV.
Grayson also serves as the host and segment producer for Mississippi Public Broadcasting's "Mississippi Roads" program. The show takes thousands of MPB viewers to antebellum homes, cemeteries, ghost towns, abandoned schoolhouses and other places in the history-rich Magnolia State. He's the author of four books including "Looking Around Mississippi with Walt Grayson."
In 1984, Walt made the jump from radio to a full-time job at WLBT as a weatherman and reporter. His focus for decades has been on interesting Mississippi people, places and events. His hobbies include collecting old records, and working on radios of yesteryear. The Mississippian loves writing and photography.
Grayson is a member of the Mississippi Broadcasters Hall of Fame.
Sponsored by the MC Department of Communication, the annual lecture series is named for the Purser Hewitt, an editor at "The Clarion-Ledger" several decades ago.
Speakers in the Mississippi College series have included former "Clarion-Ledger" reporters Jerry Mitchell and Therese Apel along with University of Mississippi journalism professor Charlie Mitchell, a syndicated newspaper columnist.
Former "Clarion-Ledger" cartoonist Marshall Ramsey and Mississippi Public Broadcasting executive director Ronnie Agnew were among other notable speakers delivering lectures in recent years at Mississippi College.
Mississippi College communication professor Tim Nicholas selected speakers for the series for over a decade. Tim also serves as the advisor to the "Mississippi Collegian," the student newspaper on the Clinton campus. Dr. Nicholas will retire at Mississippi College in May.
Sign-up For Our Newsletter
Get the latest news about Mississippi College delivered right to your inbox by subscribing to the Along College Street e-newsletter.