TJ Taylor Joins Mississippi Commission Helping Design New State Flag
---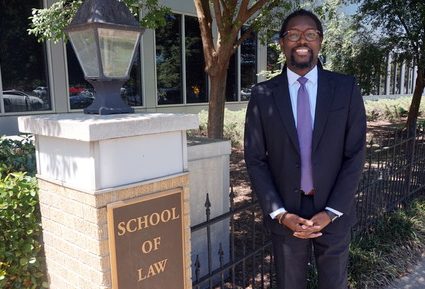 Attorney TJ Taylor is pictured at the Mississippi College School of Law in Jackson. The Madison resident is a 2014 MC Law graduate.
TJ Taylor is honored to serve on the Mississippi Flag Commission. The nine-member commission seeks to help design a new flag without the Confederate battle emblem.
A 2014 Mississippi College Law School graduate, Taylor joins members gathering flag proposals from the public through early August. A new design will be set by early September and go on the ballot for Mississippi voters to consider on November 3.
It's an awesome responsibility, but Taylor welcomes the assignment after Mississippi retired its state flag created in 1894.
"I'm excited to be part of selecting a flag that all Mississippians will support and be proud of," Taylor says. "This will certainly be a busy two months for us; we've already received 600 flag submissions from the public."
That number is now closer to 1,000-plus.
While designs may differ, the new state flag must contain the words "In God We Trust."
Taylor serves as the policy director for Mississippi House Speaker Philip Gunn, a longtime new flag advocate who recently made the commission appointment. A former intern in Gunn's office, TJ later became the speaker's chief counsel and policy advisor.
The MC graduate worked on the front lines at the Capitol as the Mississippi House and Senate debated the need to replace the state's controversial banner. Gov. Tate Reeves signed the legislation into law on June 30.
Before the bill passed, the state's business community, educators, religious leaders, coaches and others partnered with African Americans who first pressed for change decades ago.
"Advising on strategy, working on the legislation, and helping Speaker Gunn gather the necessary votes to pass the legislation to change the state flag was one of the highlights of my life," Taylor said. "I am proud to be part of the team he relied on to help him move our state forward."
MC Law Dean Patricia Bennett and Dean Emeritus Jim Rosenblatt applaud Taylor's selection to the commission. The group is chaired by retired Mississippi Supreme Court Justice Reuben Anderson.
"TJ will bring a knowledgeable and enlightened perspective to the work of the commission," Bennett said. "He will think through this matter and give careful consideration to all relevant concerns to help the commission reach the best decision."
Dean Bennett believes the group's work will "prove to be so important and most significant to the citizens of Mississippi."
Rosenblatt adds his praises.
"TJ Taylor is a valuable asset to the House Speaker's Office," Rosenblatt said. "His appointment to the Flag Commission reflects the confidence Speaker Gunn has in his judgement, experience and abilities. TJ is wise beyond his years and will perform a valuable role in selecting a prospective state flag."
A 32-year-old Vicksburg native, TJ grew up in Warren County and in Utica. He played football and basketball at Raymond High and earned his bachelor's degree in political science at the University of Southern Mississippi in 2010.
His next stop was MC Law School. "MC Law was the perfect law school for me. Being in downtown Jackson, the law school is located in the heart of politics and law in Mississippi. It put the things I love right at my fingertips and provided me with opportunities I may not have gotten at other law schools."
The MC Law experience, TJ said, equipped him with valuable skills. "It prepared and helped position me to be a part of such a monumental moment in our state's history."
It was also the place the Madison resident met his future wife, Brittany, a Denver, Colorado native and fellow member of MC Law's Class of 2014.
Asked what he will be doing in five years, TJ expects to continue to craft policy and persuade others to support it. For sure, he will tell his two sons how 2020 was "one of the most unprecedented and challenging times in our country's history and produced a truly special moment in Mississippi history."
From the COVID-19 pandemic to protests across the USA and the nation's economic woes, 2020 will be a year to remember for millions of Americans.
Taylor's wife is also pursuing a law career. Brittany Taylor is an associate attorney at the Stephens Millirons P.C. law firm.
The youngest of the four children of parents Arnold and Cynthia Taylor, TJ says his interest in law dates back to debates in his family's home focusing on current events. "My love of politics, persuasion and the law was born out of those debates. I knew early on I wanted to become a lawyer."
Sign-up For Our Newsletter
Get the latest news about Mississippi College delivered right to your inbox by subscribing to the Along College Street e-newsletter.