Welcome to the 2019 Mississippi College Homecoming
---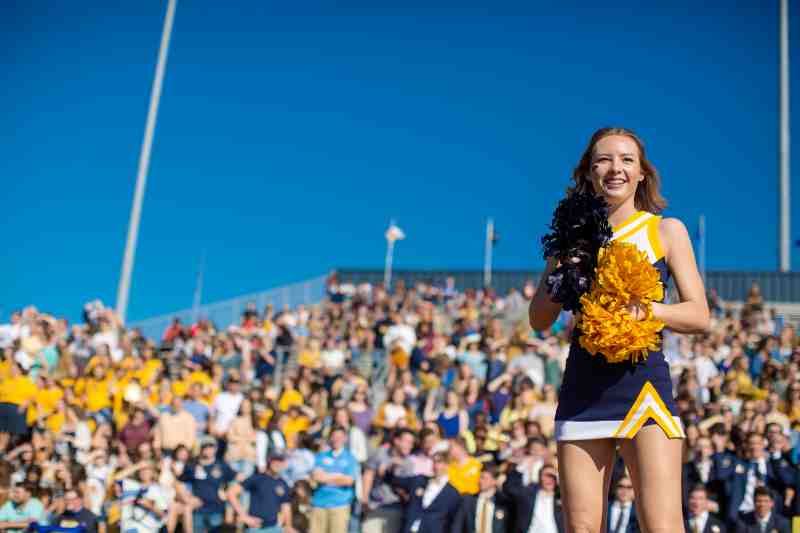 Mississippi College Homecoming 2019, October 24-26.
Mississippi College alumni can dine on tailgate food, cheer the Choctaws, visit dear friends and laugh at the Follies.
It's part of a smorgasbord of lively events on the Clinton campus for the university's 2019 Homecoming festivities. "Same Bricks, Different Stories" is the theme of the marathon of events involving the Blue & Golf family October 24-26.
From the parade along College Street to the alumni golf tournament along with non-stop reunions, "there's literally something for everyone," says Alumni Association President Shawn M. Harris of Hattiesburg.
Shawn is a 2006 MC graduate who earned an MBA here in 2009, too. He recalls the power outages on campus during Hurricane Katrina in August 2005, proposing to his wife in Clinton and much more. "Those stories are what shaped my love and admiration of MC."
The first big event on Thursday October 24 is the 50-Year-Club reunion for the 1969 graduates. It will be staged at the Gore Galleries at 6:30 p.m. with an RSVP required. The cost is $15.
Later that night, at 9 p.m. talented MC students with clubs and tribes will perform the hilarious 2019 edition of the Follies. Be prepared to see your funny bones tickled at Swor Auditorium. Tickets are required.
One of the big events on Friday October 25 will be the Homecoming golf tournament at Patrick Farms Golf Club in Flowood. It begins with a four-man scramble with a shotgun start at noon. Lunch is served at 11 a.m. The top three teams win prizes. It costs $60 to enter and RSVP is required.
The spotlight shifts to the National Alumni Association's Homecoming awards dinner at 6:15 p.m. Friday at Anderson Hall. Tickets cost $25. The Follies will be presented once again at Swor Auditorium at 7:30 p.m. Tickets can be purchased for $20 beginning 9 a.m. October 10 at mc.edu/follies.
Saturday activities get off to a bang with the Coach "Hap" Hudson Homecoming 5K run. The Department of Kinesiology hosts the 12th annual event beginning at Cockroft Hall. Runners wind through historic downtown Clinton, step it up through nearby neighborhoods and finish at Robinson-Hale Stadium. Registration runs from 6:30 a.m. through 7:30 a.m. on race day. Race director Suzanne McDonough can be contacted for more information at 601-925-7720.
Among other sporting events, there's an MC baseball alumni game day event with players asked to dust off their gloves and play ball at Frierson Field at 8 a.m. Mississippi College's nationally ranked table tennis team hosts the 2019 Dixie Division tournament at Alumni Gym. MC paddlers face visiting teams Alabama, South Alabama and Mississippi State. MC was ranked No. 2 in the nation last season. The games begin at 9 a.m. Admission is free.
An alumni softball game is set for 10 a.m. at the softball complex that Saturday.
Other notable events on October 26: the 12:30 p.m. Homecoming Parade, the MC vs Spring Hill women's soccer game at 1 p.m. at Longabaugh Field and the MC Singers in concert at 1:30 p.m. at Provine Chapel. The 3 p.m. football clash between the Choctaws and Shorter University of Georgia is set for 3 p.m. at Robinson-Hale Stadium. Fans will root for another Gulf South Conference triumph for the team coached by John Bland.
For more information on MC's 2019 Homecoming, contact Chad Phillips at 601-925-3317 or cphillip@mc.edu
Sign-up For Our Newsletter
Get the latest news about Mississippi College delivered right to your inbox by subscribing to the Along College Street e-newsletter.