World-renowned Technology Company Selects MC Students for Coveted Internships
---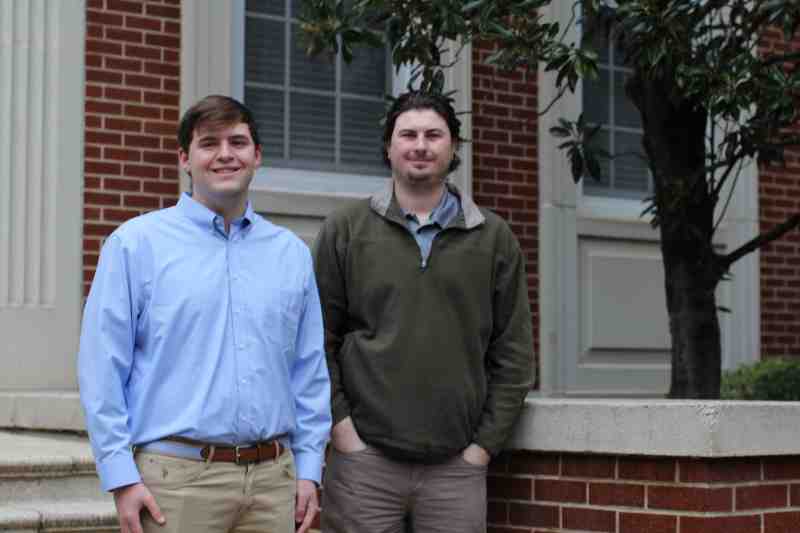 Dylan Gilbert, left, and Dylan Gatewood are gaining valuable experience as inventory control interns at Continental Tire.
A pair of Mississippi College students have landed career-building internships at one of the world's foremost companies dedicated to developing pioneering services for the sustainable and connected mobility of people and their goods.
Continental has chosen Dylan Gatewood, a senior finance major from Raymond, and Dylan Gilbert, a junior accounting major from Anniston, Alabama, to serve as inventory control interns at its most technologically advanced tire plant in North America. The plant, located two miles west of Clinton, produces large truck and bus tires for the U.S. commercial vehicle market.
Gatewood and Gilbert began their internships in December and already have important roles at Continental, according to Richard Kostal, human resources manager at the plant.
"Continental is truly a place where students can put their futures in motion," Kostal said. "An internship at Continental offers local students the chance to learn from industry experts while building skills relevant in today's job market within a global corporation.
"As inventory control interns, both Dylans are responsible for maintaining our stock accuracy in our tire production areas. Their internships end this summer, but could be extended based on business needs and performance."
Continental's newest interns both say they are relishing the chance to gain valuable experience that could help shape their futures.
Gatewood, who is on track to obtaining his M.B.A., said a successful internship at Continental could steer him towards a career in manufacturing.
"I think I may want to stay in the manufacturing realm and work my way up in that – either take a finance job or work my way up to an executive level at a manufacturing company," Gatewood said. "It will definitely give me a lot of experience, being tasked with managing inventory. I'll work with all the departments there and get to see how they buy inventory from the operations side of things.
"And, of course, I'll be making connections."
The opportunity to form valuable contacts at Continental appealed to Gilbert as well.
"I'm able to be around people who are goal-oriented and are able to share knowledge with me," said Gilbert, who plans to obtain a master's degree and become a certified public accountant. "I'm able to use software to analyze reports and take what has been taught to me at MC and use it first-hand (in my internship).
"The job has given me a deeper understanding of how the world works."
Gatewood and Gilbert both credit Dr. Marcelo Eduardo, The Anderson Distinguished Professor of Finance and dean of the School of Business at MC, for helping them land the coveted posts at Continental.
"Internships are always very helpful in providing our students with a level of practical experience and application that enhances what they do in the classroom," Eduardo said. "They are also very beneficial in the relationships that they build, which can often lead to a full-time position."
Eduardo said the initiative each student showed when seeking an internship led him to recommend them both to Continental.
"The company had contacted me earlier and described what they needed in terms of interns," Eduardo said. "I thought that Dylan (Gatewood) would be a good candidate given his finance major and the work ethic that I had observed. So I was glad to recommend him.
"Of course, all I provided was a recommendation and the contact – he still had to interview and be successful in presenting himself as the right person. And he obviously did."
Eduardo said the same was true with Gilbert.
"He took the initiative to come and see me and inquire about internships. Again, I thought there would be a match – he is an accounting major – and would work well in an internship that dealt with inventory control."
Indeed, Kostal said both students displayed all of the qualities Continental looks for in its interns.
"During the interview process, both students made lasting impressions on the hiring manager," Kostal said. "They came across as smart, humble, and eager to learn more about the world of manufacturing at Continental.
"We were impressed by their plans after graduation and how they felt this internship would benefit their futures."
He said it came as no surprise that Mississippi College had exceptional matches for its student internship program. Since its October 2019 grand opening, the plant has hired several student interns from MC.
"For example, Brianna Foy and Lexi Pund are two Mississippi College students who joined our team last spring," Kostal said. "Foy, who is a communications intern, manages local and regional projects across multiple locations. Pund leveraged her experience as an accounting intern into a new full-time role as associate buyer in our Purchasing Department."
Gatewood said after his experience at Continental, he would be open to a full-time role as well.
"It's a great company to work for," he said. "They tend to really care for their employees. When I graduate from MC in December, I hope to possibly take a job there."
While he is considering either a career in manufacturing, as a financial planner, or as an accountant for a sports organization, Gilbert said the internship is providing invaluable guidance.
"I believe the experience here at Continental will help me in my future career," he said. "I'm not 100 percent sure long term, but I have a few ideas. I definitely believe the importance of internships is crucial to understanding and learning what you would like to do."
Founded in Hanover, Germany, in 1871, Continental offers safe, efficient, intelligent, and affordable solutions for vehicles, machines, traffic, and transportation. Kostal said as an organization, Continental operates on four core values: passion to win, freedom to act, trust, and "for one another."
"This means that the same level of guidance and support is delivered whenever our interns need it from anyone in the organization at any time," he said. "Everyone at Continental is rooting for interns' success!"
Sign-up For Our Newsletter
Get the latest news about Mississippi College delivered right to your inbox by subscribing to the Along College Street e-newsletter.