Blake Thompson
President, Mississippi College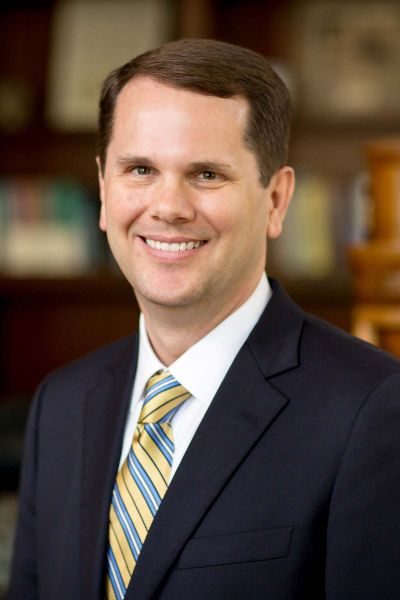 Dr. Blake Thompson has served as Mississippi College's 20th president since July 2018.
Since coming to MC, Thompson has become known for putting students first, exhibiting seemingly limitless energy, and bringing a new sense of excitement to the 197-year-old university.
Under Thompson's leadership, renovations to Alumni Hall – including the addition of Chick-fil-A and Einstein Bros. Bagels restaurants ­– were completed in 2020. He established the University's Honors College and expanded international programs with the 2019 launch of the Edward McMillan Center for Education Abroad. A series of studies are underway to enhance MC's academic programs, facilities, and fundraising - and to strengthen the Christian University's ties with its alumni and Baptist churches.
Dr. Thompson was appointed to serve a seven-year term on the National Collegiate Athletic Association (NCAA) Division II Presidents Council, the division's highest governing body. He also was selected to serve on the NCAA Division II Advisory Group. He is currently a member of the University of Health Sciences & Pharmacy President's Advisory Council. He played a significant role in the American Heart Association's Metro Jackson chapter, serving on its Heart Ball Executive Leadership Team at the 43rd annual event to promote healthier lives. He was recognized as the University of Mississippi School of Pharmacy's Alumnus of the Year in 2021.
Before joining MC, Thompson served as vice president and secretary to the Ohio State University (OSU) Board of Trustees. He had several leadership positions at 66,000-student OSU, one of the largest universities in the country. In addition, Thompson had a joint vice-presidential appointment with Battelle, the world's leading nonprofit research and development organization. He has also served as a senior staffer to the U.S. Senate Appropriations Committee and the late Sen. Thad Cochran in Washington, D.C.
Thompson and his wife, Jana, were raised in the small community of Rienzi, Mississippi. Both are graduates of the University of Mississippi School of Pharmacy. Thompson earned his doctorate in pharmaceutical sciences at Ole Miss and holds an executive master's degree from the Georgetown University School of Business. The Thompsons have three children: Grey, Sarah Blake, and Cate.