Lee Gardner Royce became Mississippi College's 19th president in July 2002, and under his leadership the Christian university has experienced record enrollment growth, financial success and a construction renaissance.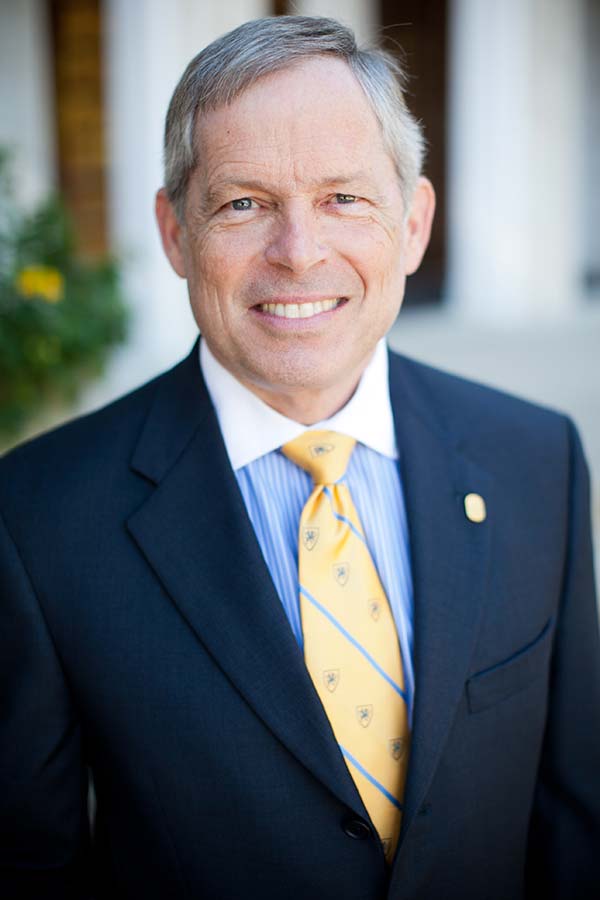 Lee Gardner Royce came to Mississippi College from Anderson University in Anderson, South Carolina, where he served as president. Prior to assuming the leadership role at Anderson, Dr. Royce was vice president for university relations at Belmont University in Nashville. He holds a doctorate in higher education administration, a master's degree in business management, and a bachelor's degree in history from Vanderbilt University.
Dr. Royce and his wife, Rhoda Russell Royce, have been married for 41 years. Their son, Mark, has a Ph.D. in political science and is an Associate Professor at Northern Virginia Community College in Springfield, Virginia and is also a member of the adjunct faculty at George Mason University in Fairfax, Virginia.
Lee Royce serves as the 19th president of Mississippi College. Since he arrived in 2002, Mississippi College continues to enjoy record enrollments, while launching quality academic programs and gaining increasing national visibility. Serving more than 5,100 students, 415 internationals, from 41 states and 40 countries, Mississippi College is the oldest institution of higher learning in the state of Mississippi and second oldest Baptist university in America. The University offers 83 areas of undergraduate study, 16 graduate programs, a doctor of jurisprudence, a doctor of education leadership degree and a doctor of professional counseling degree.
One of a kind in Mississippi, MC's physician assistant program graduated its first class in May 2014. The Bachelor of Science in electrical engineering enrolled its first students in Fall 2015.
During Dr. Royce's presidency, Mississippi College has been blessed to be a university with new facilities, robust financial health, and increased service initiatives from Mississippi to distant points around the globe.
Phillips House, a residence for Mississippi College's president and family members was completed. University Place residence halls on the East Campus opened to students in late August. The eight units contained beds for 189 MC students. The modern apartment-style facilities represented the first new residence halls in two decades. The attractive units have balconies, sidewalks, lighting at night, and the latest in amenities. The facilities for upper class students are situated on the site of the former Clinton Junior High. Renovations to Robinson-Hale Stadium and the construction of Rice Baseball Field House boosted athletics as MC returned to NCAA Division II and rejoined the Gulf South Conference.
Mississippi College hosts 17 NCAA Division II Conference teams. In 2016, the MC Lady Choctaws softball team captured the NCCAA national championship and the Men's Soccer team won the 2016 Gulf South Conference regular season championship.
Mississippi College reported 151 first-time professions of faith in Christ in 2015-16. The number includes 67 at MC summer camps as well as 84 MC students who accepted Christ. Over 650 Mississippi College students participated in Spring Break and summer mission trips in 2016.
For more than 10 years, at least 42 students, plus MC faculty and staff, serve as volunteers at the Think Together Discovery Center. They assist disadvantaged children with tutoring at a Clinton apartment complex. Faculty, staff and students also performed 100,000 hours of community service to more than 150 agencies.
MC continues to serve as a host site for Centrifuge, Mission Fuge and Super Summer camps. There were more than 6,800 children Christian camps as well as sports camps and music camps. More than 2,170 campers contributed over 38,600 hours of service at more than 40 ministry sites in Jackson, MS. The School of Business continues with its successful Faith & Ethics series.
The University continues to end the year "in the black" with an increase in net assets and an operating surplus. At the end of the fiscal year, May 2016, the Office of Advancement reported total actual gifts of $7,500,557.
The Office of Advancement reported the number of $1000+ donors is 506. Endowment stands at $73.7 million. Mississippi College continues to gratefully receive generous support from the Mississippi Baptist Convention.
MC's impact on the local economy is strong with more than a $75 million budget, over 500 employees and net assets exceeding $172 million.
There is much room for optimism as the University pursues its vision to be known as a university recognized for academic excellence and commitment to the cause of Christ.