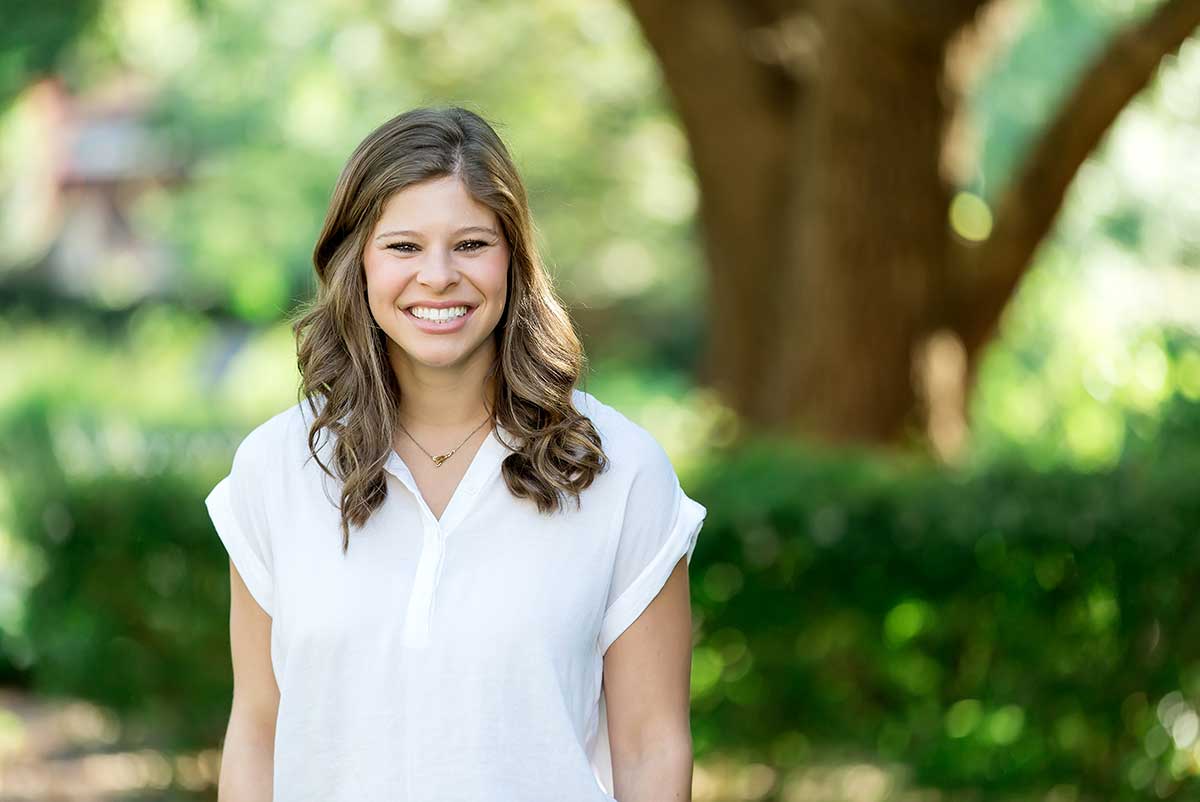 Kaitlin McCarty
Senior Admissions Counselor
Recruiting Areas
In Metro Jackson: East Rankin Academy, Hartfield Academy, Jackson Preparatory School, Northwest Rankin High School, Pelahatchie High School, Pisgah High School

MS Counties: Attala, Winston, Noxubee, Leake, Neshoba, Kemper, Scott, Newton, Lauderdale, Smith, Jasper, Clarke
Primary State(s): Central and North Alabama
Tertiary States: SC, NC, VA, WV
About Kaitlin
Class of 2016
Hometown: Brandon, MS
Major: Communication (Public Relations)
Involvement at MC: Campus Activities Board, The Council (Club & Tribe governing board), Welcome Week Crew, Scouts
Fun Fact: I worked at Chick-Fil-A for eight years; "My pleasure" is a permanent part of my vocabulary.
Hobbies/Interests: Water-skiing, running, playing games, meeting new people, traveling, asking questions, and drinking smoothies.
Favorite Place on Campus
The people and the authentic community are the heartbeats of Mississippi College. It is what initially drew me to MC, and it is what has kept me loving and believing in this university. I believe that this invaluable element of MC is most clearly manifested in the Cafeteria, affectionately known as "the Caf." I love walking in the doors and immediately hearing the steady buzz of conversation, accented by the frequent explosions of laughter from people enjoying meals together around tables. There is not a day that I go into the Caf when I don't leave smiling and encouraged, having made a new friend and having connected with old friends. Not to mention, the food is great. The black bean enchilada is my favorite meal in the Caf. Get them every time you can! You won't regret it.
Favorite Class at MC
I love so many of my professors and courses at MC. However, the classes that really take the pastel, are the Spanish classes I took in Salamanca, Spain when I studied abroad with MC during the summer of 2014. Without a doubt, my time in Spain was one of the most stretching, enriching, and unprecedented experiences of my life to date. Through studying abroad, I increased my confidence and knowledge in speaking Spanish; I made incredible friends who live in all corners of the globe; I developed an affinity for Spanish culture, and I got to know Dr. Beth Stapleton, the incredible director of MC's Modern Languages department. Not a day that goes by when a smell, a sight or a sound doesn't trigger a memory, taking me right back to a sunny street corner in Salamanca.
Advice to Incoming Students
When I came to Mississippi College, I was told: "MC is what you make it." After four years here, I believe that advice more than ever. You can stay in your room and not invest anywhere, and you will probably end up not liking your college experience very much. Instead, I encourage you to come in, get involved, and take ownership of your time at MC. Use these four years to grow yourself, develop authentic relationships with people, and impact this campus and its people for the better. Find the things you love to do, and do them in a way that influences others and pushes you closer to the Lord.