The MC Department of Communication's
Newsletter for Alumni & Friends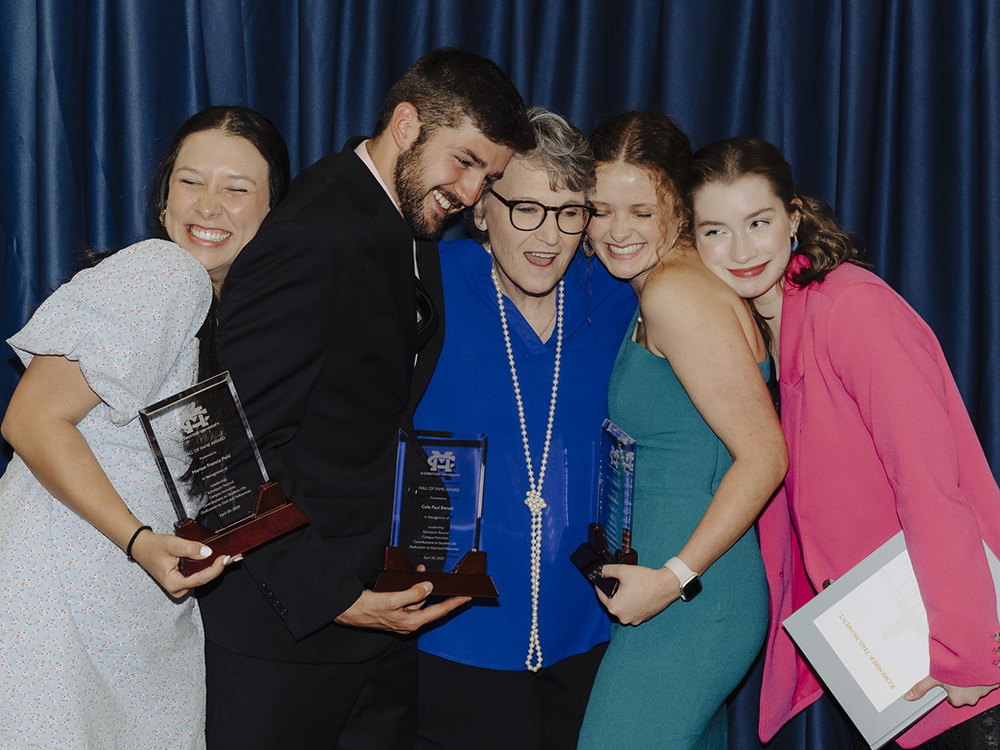 We're grateful for the ongoing support of our alumni and friends who advocate for and employ our students, pray for our everyday work, and contribute financially to our cause. If you'd like to know more about how you can help us prepare students to be successful communicators with their words, skills, and lives, please contact department chair Dr. Reid Vance.
Award Winners
MISSISSIPPI COLLEGE HALL OF FAME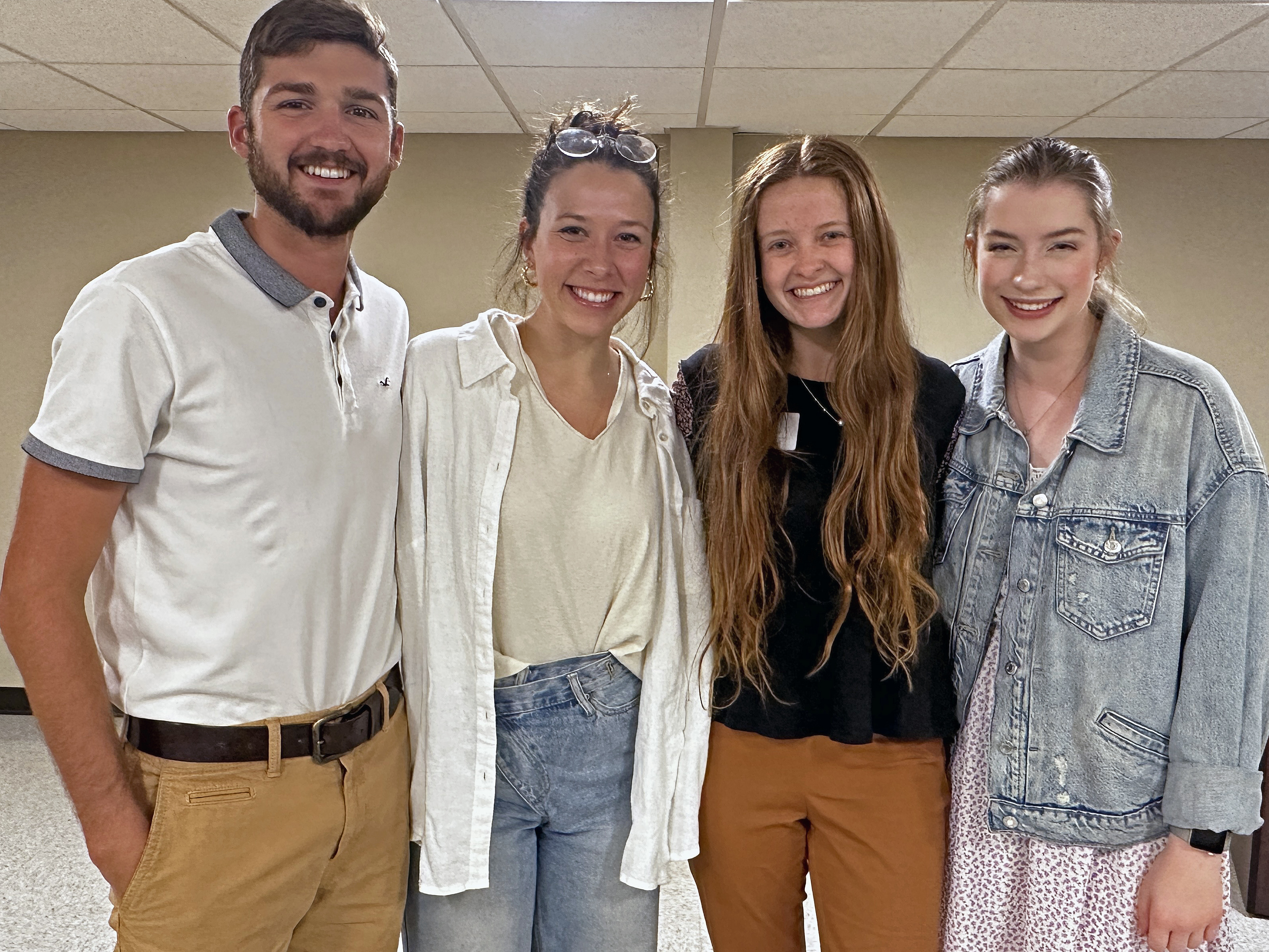 Established in 1960, Hall of Fame induction is awarded to four Mississippi College senior students for outstanding leadership ability, scholastic achievement, extracurricular activities, participation and contribution to student life, and dedication to serving God and their fellow man. Since 2009, 18 Communication majors have been chosen for the MC Hall of Fame, representing over one-quarter of all MC students inducted.
This year's Hall of Fame students from the Department of Communication are (l to r) Cole Benoit of Carriere, Miss.;, Carly Fisher of Shawnee, Okla.; and Marion Pohl of Bay St. Louis, Miss.
These students join the following MC Communication alumni over the last 15 years as MC Hall of Famers: Megan Baylis (2022), Emily Hankins Ellis (2019), Andrew Fehrenbacher (2015), Molly Mitchell Golding (2018), Tori Langworthy Holloway (2016), Mary Beth Hughes (2017), Megan Kaye Donohoe Marti (2015), Randall Miller (2011), Emily Alexander Moore (2012), Anna Katherine Beasley Mortimer (2011), Chase Richardson (2012), Katy Thompson (2009), Kaitlyn McCarty Turcotte (2016), Andrew Wilson (2016), & Damon Wright (2021).
TODD & PERRY AWARDS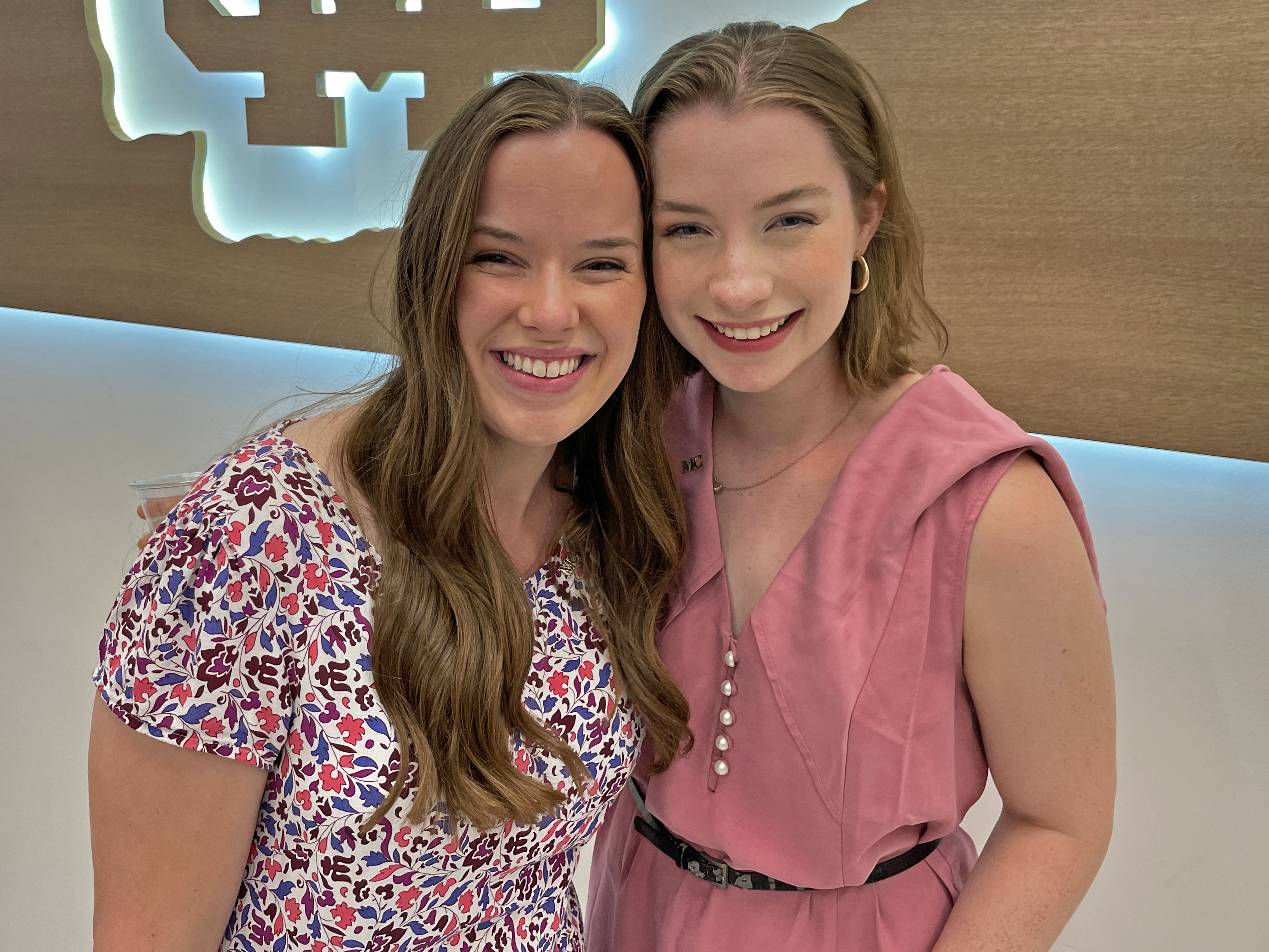 The Hollis and Julia Todd Award, named for the founding professors of the Department of Communication who each taught 30 years at their alma mater, is the highest honor given by the department and is awarded annually to the department's top senior student. This year's recipient is Kienna Van Dellen of Lethbridge, Ont., Canada.
The Perry Academic Awards were established by Mr. and Mrs. M. W. Perry of the Class of 1933 for the purpose of recognizing scholastic achievement at Mississippi College. Academic awards are awarded to seven seniors each year based primarily on academic performance and also on leadership, citizenship, creative ability, activities, and moral character. This year's recipient from the School of Christian Studies & the Arts is Gracie Lee, of Jackson, Miss. Lee is only the fourth Communication student to ever receive this prestigious award.
DEPARTMENT AWARDS
Undergraduate Research Award – Abby Spires
Graduate Research Award – Elliot Reeder
Outstanding Digital Media Production Student – Jace Aymond
Outstanding Interpersonal & Public Communication Student – Carly Fisher
Outstanding Journalism Student – Kienna Van Dellen
Outstanding Public Relations Student - Marion Pohl
Outstanding Sports Media Student – Paxton Dorch
Outstanding Theater Student – Victoria Hendren Myers
SCHOLARSHIP WINNERS
The following students were awarded departmental scholarships for the 2023-24 academic year:
Arnold Hederman Memorial Scholarship - Jace Aymond
Billy Lytal Scholarship - Jordan Little & Jackson Breedlove
William Alfred Middleton, Jr., Scholarship - Caroline Hunt
Lindsay Carole Miller Scholarship - Connor Dyess
Bob Pittman, Jr. Scholarship - Jill Sanchez
Hollis & Julia Todd Scholarship - Kate Gammill, Mason Kendall, Chloe Newton, Alana Magliolo, & Charlie Williams
PRESIDENT'S AND DEAN'S LIST
The following students were named to the Mississippi College President's and Dean's Lists for 2022-23: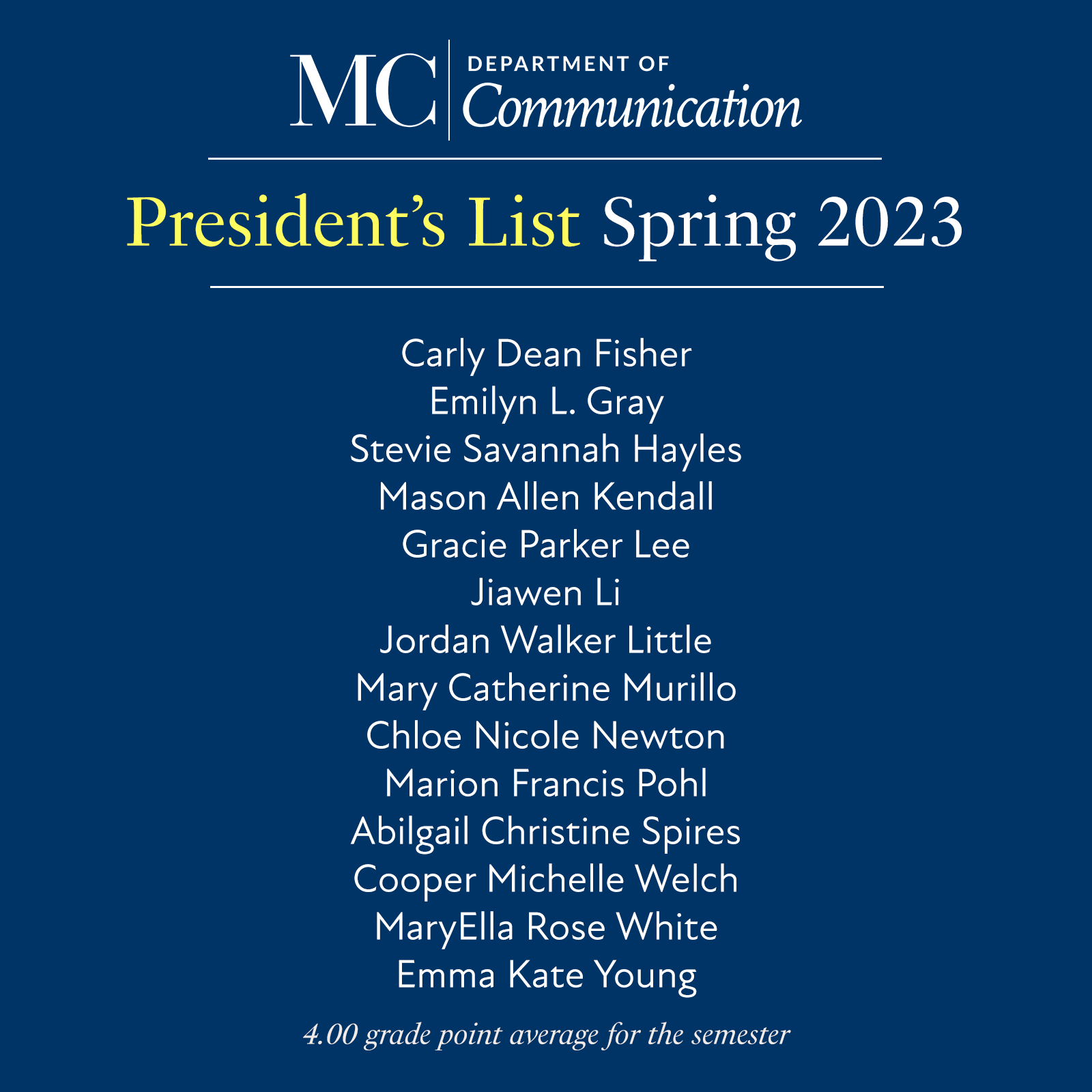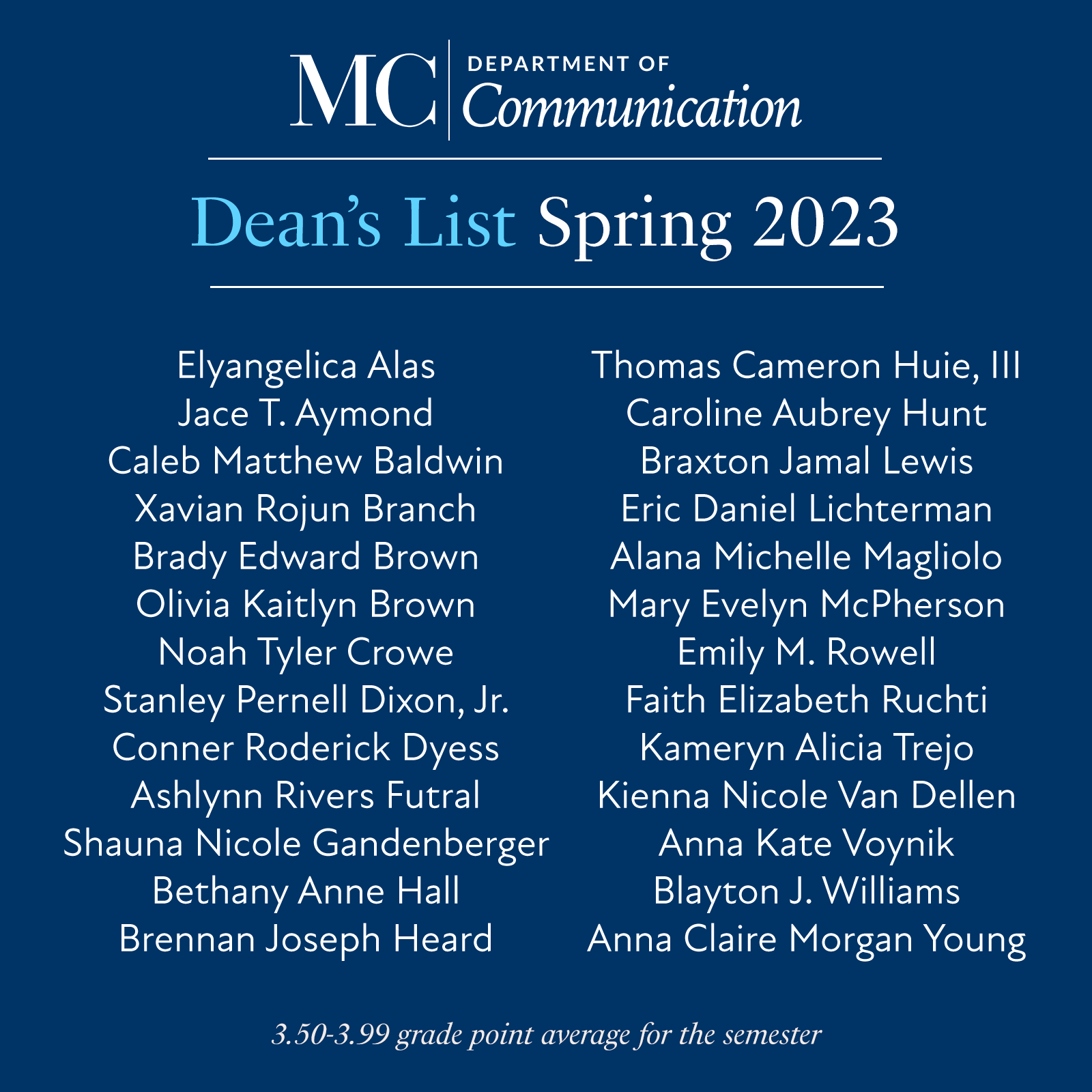 Can We Get a Picture?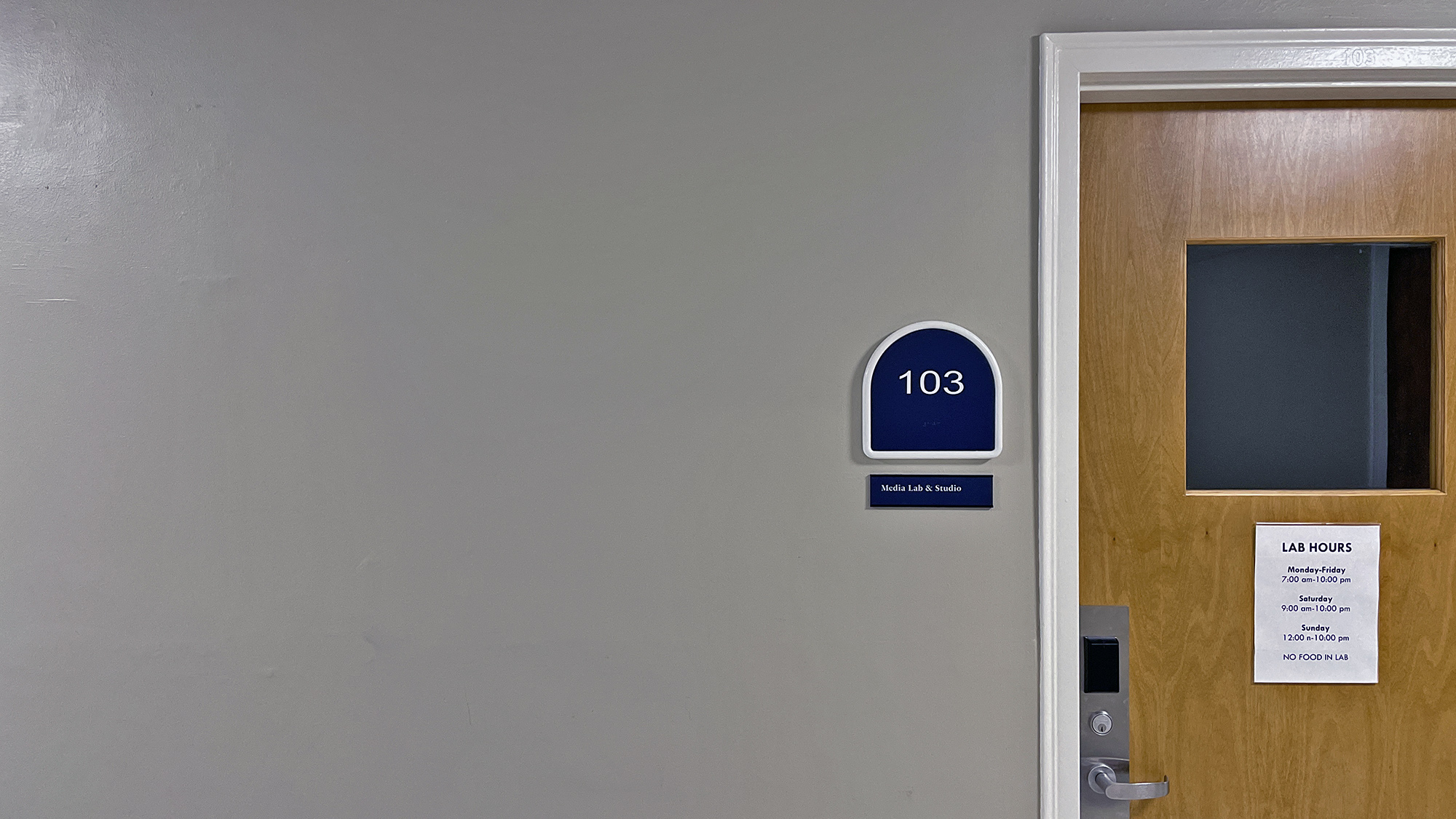 Thanks in large part to your generosity, our classrooms and hallways in Aven are looking better than ever. But our walls are still missing something... pictures from you!
If you have photos from your Mississippi College days that you'd like to share for possible display in the hallowed halls of Aven, please upload them here.
This is a great way to inspire our current students and to jog your own memories when you visit in the near future - including for MC's Homecoming on October 21, 2023.
Please don't leave this important interior design task to our department chair. Share your photos today!
Alumni Gatherings for Fall 2023
We'll be hosting MC Communication alumni gatherings in Fall 2023 in both Central Mississippi and the Baton Rouge/New Orleans area. If you'd like to attend or help plan these events, please contact Dr. Reid Vance to register your interest.