Phase 1: Clear all holds on your account.
*Spring Semester account holds will not keep you from choosing a room*
You must have a $0 balance on your account in the Business Office to be able to begin your application and sign-up for housing.
Holds that prevent you from registering for classes will also prevent you from signing up for housing.
Phase 2: Apply for on-campus living and choose a roommate.
Starting February 23 at 10pm, you can log in to apply for on-campus housing. If you will be applying to live in University Place, you will be able to create a roommate group.
Apply for housing
Edit and update your contact information
Create your housing profile
Request or find a roommate of your choosing
Roommate requests are not guaranteed. It is a student's responsibility to ensure that when selecting a room, if they have a confirmed roommate request, that the roommate is also placed in the room. Requesting a roommate after you have chosen a room will not automatically pull the person into the room. You are not able to directly request a transfer or readmit a student as a roommate. You will need to wait until March 26th after 9 a.m. to select those students as roommates.
Phase 3: Room selection and housing confirmation
Renew current room: Students in upperclassmen buildings can select their same room for next year. This is available February 23rd, 2020 at 10pm until Monday, March 3rd, 2020, at 11:59 p.m. You will not be able to pull in your roommate during this time frame. *You are NOT able to renew your current CP or UP room. You must re-apply through the housing application for an apartment in University Place.*
If you do not select your same room before the date and time, then your current room will be opened for others to choose during the housing sign up process. ADA rooms are not available for renewing and you must go through Counseling and Disability Services to renew those spaces. The deadline for ADA accommodations is March 16th, 2020.
Any student (current or new) who has applied for housing but misses the opportunity for room selection, which closes July 31, will have their room assigned by the Office of Residence Life according to room availability and the room preferences designated on the housing application.
If you need ADA Accommodations, you must have contacted and completed all necessary documentation with Counseling and Disability Services by March 16th. Failure to do so will result in the inability for Residence Life to make any necessary accommodations.
Credit Hour Classification
| | |
| --- | --- |
| Status | Total Hours + Current Number of Enrolled Hours |
| Rising Seniors | 84 hours or more |
| Rising Juniors | 54 hours or more, but less than 84 |
| Rising Sophomores | 53 hours or less |
Timeline
When
Who


February 23rd at 10 p.m.


Students can access Housing application and Junior/Senior's can create groups


February 23rd-March 3rd


Renew current room (Upperclassmen halls and non-ADA only)


February 23rd @ 10 p.m.
until March 3rd @ 11:59p.m.


University Place Sign Up
Rising Juniors and Rising Seniors only
Only those currently living on campus
(Notified of placement on March 6th)


April 8th at 5 p.m.


Rising Senior Females
Sign-up for a new room (not current room)


April 9th at 5 p.m.


Rising Senior Males
Sign-up for a new room (not current room)


April 13th at 5 p.m.


Rising Junior Females
Sign-up for a new room (not current room)


April 14th at 5 p.m.


Rising Junior Males
Sign-up for a new room (not current room)


April 15th at 5 p.m.


Rising Sophomore Females
Sign-up for a new room (not current room)


April 16th at 5 p.m.


Rising Sophomore Males
Sign-up for a new room (not current room)


April 17th at 9 a.m.


Commuters, Re-Entry, Transfers
Main Campus Residence Halls Instructions
Roommates will need to choose a completely empty space if you want to be together. If it reads 1/2, it means there is someone already assigned to the room.
Students of different academic classifications will not be pulled into a room together unless they are choosing a room on the lowest classification date for the two students.
---
If you have any questions about the room selection process, you can reach the Office of Residence Life at 601.925.3359.
University Place Instructions
*If you are not currently living on campus you cannot apply for University Place*
You will only create a roommate group if you are a rising Senior or Junior who is interested in living in University Place Apartments. Please follow the steps below. Reminder: You need to have a group of 4 for University Place.
If applying for University Place Apartments, create your roommate group (4 people per apartment) labeled "YOUR UNIQUE GROUP NAME"
Designate someone from your apartment group to create your group's username and password. The group leader will then select "Create a New Group." Remember that only 1 person from the group needs to create the group and you can only be a part of one group.
The group leader shares the username and password with the other members of the apartment group. Those individuals will need to select add "Yourself to a Group." You will see your name added to the group once you have added yourself to the group.
Once everyone in the apartment has been added to the group, the Group Leader will need to go back and select "Verify Roommate Group."
If you do not get a University Place apartment or want to live in another residence hall, you will return to the housing portal on your assigned priority date
---
Important University Place application information
(Right-click and select "Open window in new tab" to see larger version of this picture)



---
This is a FAKE/MADE-UP example.
Below are all of the made-up groups that applied for University Place (The Pods).
(Right-click and select "Open window in new tab" to see larger version of this picture)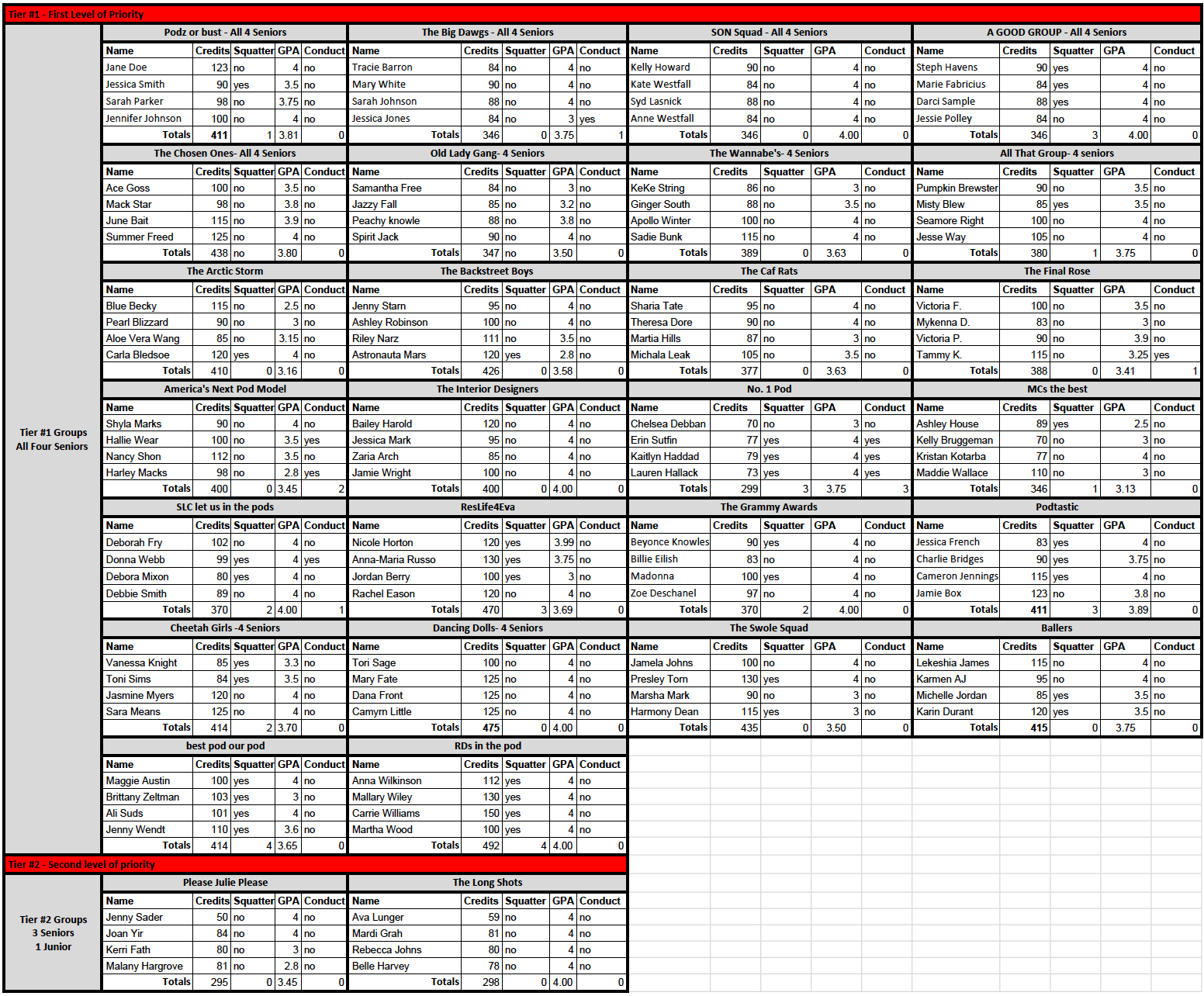 Below is how each of the above groups are placed in the apartments.
(Right-click and select "Open window in new tab" to see a larger version of this picture)